After doing great things yesterday, in dry conditions, today proved to be more challenging for the Althea BMW team. The Malaysian track was soaking wet, creating problems for everyone, especially those with less data and experience in this kind of situation.
Riders Jordi Torres and Markus Reiterberger, for example, were taking on a wet Sepang for the first time on the BMW and both came through this test unscathed. After a cautious start, #21 was lying eleventh on lap and ran the entire race around this position, closing in final tenth place.
A less aggressive race compared to his performance in the dry, which Reiterberger explained like this: "To be honest, I was a bit nervous before this second race as I had no idea what we could do in the wet. I was cautious in the early laps as I wasn't used to this type of conditions. Then I was able to build confidence and also had fun... it was my first SBK race in the wet and I'm quite pleased." 
Markus' thanks go to Genesio Bevilacqua's team that ably assisted him this weekend: "I have to thank the team for all their hard work here. After some rather difficult events, I feel we've really made progress here and I'm looking forward to the next races."".
Spanish rider Torres, after yesterday's great race in which he finished fourth, had to limit the damage today and battle against both the weather and his rivals, concluding the race in thirteenth place, not exactly what he was aiming for but earning three more points, with Jordi positioning seventh in the standings.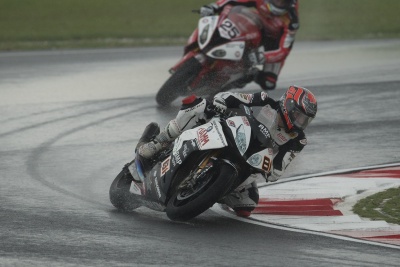 "With the rain we knew it would be difficult, but for everyone of course, seeing as we had no idea what the grip would be like in the wet. For us it was useful in understanding more about the bike's behaviour in the wet and how we are fixed in terms of traction control. I was able to understand a lot of things, and the data we've collected will be useful for our continuing development.
Jordi, however, had hoped for more: "It wasn't possible to do more today but, considering the conditions, we weren't too far from the leaders in terms of time and we take this as a positive as we continue our work to prepare as well as possible for Donington."
Share