A real thriller, with the ending still to be written. If you thought the tyres and weather might be the only problems at the Argentinian Grand Prix, you'd be wrong - it turns out that was just the start!
On Monday, having left Rio Hondo, teams, riders and personnel should have boarded a flight taking them from Tucumàn to Buenos Aires, before then travelling on to Texas.  Due to adverse weather conditions, the plane couldn't take off and so they were left stranded at the airport. If that was not enough, all flights were subsequently cancelled. What's that expression? It never rains but it pours...?
As a solution, four buses have been made available, thanks to which the stranded passengers can reach the Argentinian capital. So a fifteen-hour coach trip to reach Buenos Aires, where a charter flight will transport them overnight to Houston.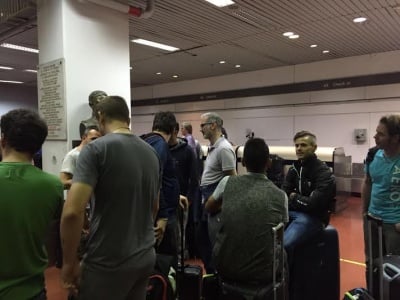 Then the final stage to Austin. Still stranded at Tucuman are team Gresini's riders, as well as Redding and Pirro, Barbera and Baz,  without forgetting Bradl and Bautista. The same applies to Crutchlow and the entire Marc VDS team including Morbidelli, Alex Marquez, Rabat e Miller. And also Loris Capirossi.
Suffering the same fate are Gigi Soldano and Tino Martino, who appear here in the photo taken by Paolo Scalera, alongside Aprilia press officer Andrea Zoccarato and our own journalist Matteo Aglio.
The same situation, again due to the weather, has also affected flights that should have transported the material to Texas. At present, only the material belonging to DORNA, IRTA and a few of the MotoGP  teams has arrived in America. Aprilia, Gresini, Avintia and Marc VDS, as well as the Moto2 and Moto3 teams' crates are still at the airport, the risk being that material will only arrive at its final destination on Thursday. So basically, after Rio Hondo, there is now a big question mark surrounding Austin too.