In just a few months' time Marco Simoncelli's name will return to the world's racetracks. The Sic58 Squadra Corse is ready to make its debut in the Moto3 world championship, managed by his father Paolo.
The squad will adopt Sic's colours, his face will appear on the trucks and it won't be referred to as a 'team'. Paolo explains why: "using the English word team is too modern for Marco who should have been racing back in the days of Schwantz and Rainey. For this reason we've decided to call it Squadra Corse".
There's not long to go now, are you ready?
"This is a very busy period, there are many things to get done and sort out. I'm pleased because I've also got back in touch with Ongetta, a sponsor of Marco back in 2004, there was a friendship there and contact was made when they heard we'd be in the world championship. It is the company heading up our group of backers".
When you embarked on this adventure with the Sic58 Squadra Corse were you already thinking about the world championship?
"We started in 2013 and our goal was to reach the worlds within 4 years, it took us one more but we wanted to do it properly".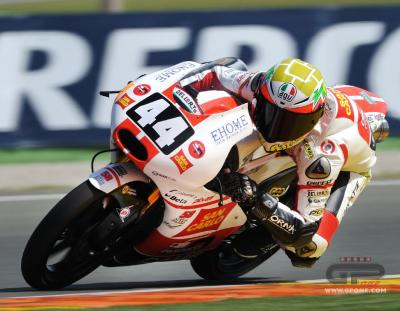 In terms of riders, you'll have Arbolino and Suzuki…
"Tony has been with us since he was 13, he was ready for this step that's come at the right time. My other riders were not yet ready and we've come to an agreement with Tatuki, who's already raced in the championship for two years. He dreamed of riding a Honda and in the initial tests at Valencia, he was very fast. I think that they can get on and that we can achieve great things. I'm also pleased in that we'll have Marco Grana as crew chief, who worked with Enea Bastianini. He's very capable and fast in his decision-making".
Will you continue to participate in other championships?
"Yes in fact my wife always asks whether I've done my maths correctly? (he laughs). We'll continue in the CEV with Casadei, one of the first to come to the Squad, and Montella.. Then we'll be in the CIV, in Pre-Moto3, with Bergamini and Patacca, two twelve year olds".
How do you find time to do it all?
"At times it keeps me busy even when it should not, but it's the only thing that makes me happy. I've been helped by the fact that Marco's historic sponsors have supported me. We have worked well, the team colours are great and we have strong riders".
What's it like working with such young riders?
"It can be emotional, from time to time I give them a dressing down and then I hug them. The approach is a sort of good cop, bad cop which I like, I did the same with Marco. It works and the atmosphere within the Squad is good".
Are you also worried about debuting in the world championship?
"I think it was harder to start from scratch, when we came to the CEV. Now it's easier, although I know it will be hard to return to Malaysia, but we carry on".
You're bringing Sic back to the world championship…
"The legend of Marco lives on, people recognise me wherever I go. The Squad's trucks will feature his colours and his face, people stop us to take photographs. I think it's something that needed to be done and we're now here".
Does this go beyond the competition itself?
"There are young guys in the team who ride for free, without this opportunity they wouldn't be able to demonstrate their true value. I don't know if this is right or not, but I've started like this and will continue".
Where do you want to get to, are you already thinking beyond Moto3?
"Stop! If I tell you I've thought about it, you'll call me stupid! (he laughs) We've reached this point because we've worked well, Dorna watched us carefully before proposing the world championship to us. I am pleased to bring Marco's name back to the track, it will be a great thing for everyone".