This is the latest evolution of the Fireblade: the SP2 version of the CBR1000RR is destined to race, though it's also homologated for road use. With the presentation of the new look Fireblade (click HERE to find out more), come two versions, the SP and SP2, and it is the latter that will Honda will use as its weapon as it aims to return to the top of the various national and international championships.
Aesthetically, the Fireblade SP2 stands out from the SP due to its fairing that harnesses a more electric blue shade with an aggressive carbon weave, a gold accent under the CBR Fireblade and Honda logos, and sophisticated Marchesini 7-spoke wheels, which help to reduce inertia of the front and rear wheels by 18% and 9% respectively.
FOCUSED MODIFICATIONS - Starting with the bore measurement of the SP, with the SP2 the intake valves have been redesigned, increased by 1
mm, as have the exhaust valves, now 27 mm compared to the 25.5 of the SP. The angle between the valves also changes, equal to 10° for the intake valves and 12° for the exhaust valves (with respect to the 11°/11° of the SP). The lift of the valves remains unchanged, as does the width of the head.
The compression ratio is the same as the SP (13:1) but with the SP2 , thanks to the different shaped valves, the combustion chamber boasts a 'cleaner' shape, benefiting combustion uniformity and performance. The longer spark plugs are also new, as are the more closely positioned water passages around the combustion chamber, that improve cooling. This is an option borrowed from the MotoGP RC213V.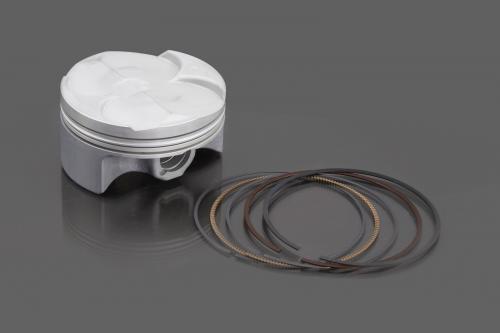 LIGHTER PISTONS - The piston crown boasts an exclusive structure with a heat treatment that strengthens the area around the piston rod foot, to which a pin, 2.5 mm shorter and 8 g lighter, is connected. Ready to house increased camshafts, the external diameter of the tappet is increased by 2mm (28mm on the SP), while the overall height and thickness are reduced to reduce the weight.
On the Fireblade SP2, electronic riding aids are the same as those on the CBR1000RR SP, but there are some exclusive settings. For those looking for even more, there is a racing kit that includes many special parts to further improve riding performance on track.