A Terrace on the Pitlane: the Misano of a self-imprisoned reporter
Nine journalists in total at the San Marino GP courtesy of Dorna, but all that glitters is not gold. "I am optimistic - the FIM President, Jorge Viegas told us today - we are working to ensure an absolutely normal world championship calendar for 2021".

Submitted by

Paolo Scalera

on Fri, 11/09/2020 - 20:42
We have, if we can say so, fought to be there, even if probably 'fight' is not the right verb to use.
It is more correct to say that - at first a small, but nevertheless numerous group of journalists from the world championship – discussed matters and then left room for a handful of colleagues.
There were no 'Carbonari-style' meetings (Italian secret revolutionary society, Ed.), we regularly kept informed the main team managers, the manufacturers and, of course, the FIM and Dorna, who was our main (if only) interlocutor and I must admit that Carmelo Ezpeleta himself did not back away, on the contrary he responded promptly by participating in both individual and collective calls, with a spirit of collaboration.
So today we are here, at Misano, not in the usual press room of the circuit, but in a room on the second floor. To access it we had to follow, rightly, the same procedure as for riders and teams. Therefore a mandatory swab test within 96 hours prior to entry into the circuit and, of course, mask and social distancing.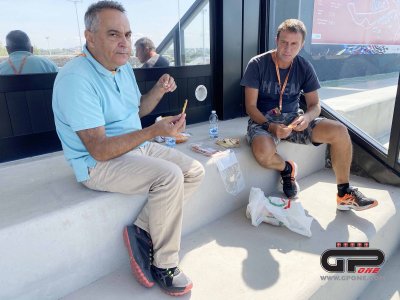 At the entrance we underwent a temperature check, which now you do even when you enter a shopping centre and, in addition, a check of the QR Code generated by an app for iOS and Android - MotoGP Med - which certifies your negative status.
Whatever people say, the swab is an invasive and unpleasant check and, if required, doing it every week is no small sacrifice. Riders, team managers and mechanics are forced to do it but, afterwards, they can fully carry out their work, even if like everyone they have to give up most of their social life by living in a 'bubble', but the rest of the teams still live travelling together, staying in the same hotels and eating together.
The difference today is that there are no Hospitalities so the moments of what was once called 'the refectory' are sad lunches in lunch boxes, but in any case you can forget the 'tables' of the past even in normal times: now the teams, almost all of them, eat at the circuit in their own Hospitality, to save money, because what during the day in normal times was the main structure to gratify the sponsors, becomes the meeting point of the team.
For journalists, however, things are different and in the current situation we are not allowed to work normally. The first restriction, but also the one that encompasses all the others, is that we cannot circulate in the paddock. Which is equivalent to not being able to collect information. Least of all you can't walk around the pitlane, which means not being able to see the bikes, i.e. we are simply not aware of the work being done by the teams and riders.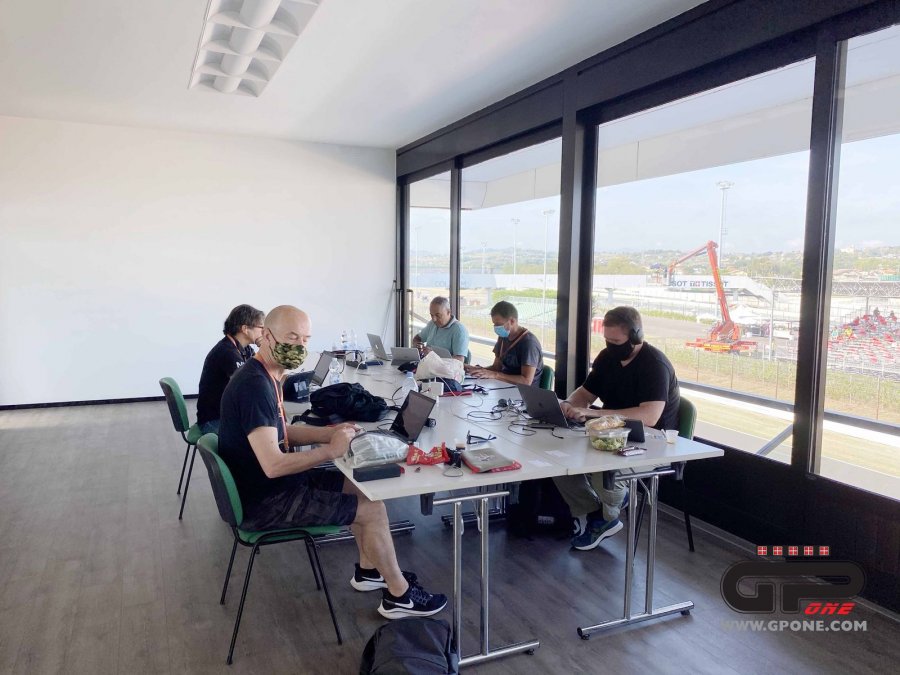 Every so often some team manager or PR comes up to greet us, today even William Favero from Yamaha, brought us some coffee, but he doesn't stay long because the room is not soundproofed and there is a hellish din. Mind you: today I was almost moved to hear the roar of the engines live and, looking out from the balcony that overlooks the finish straight, I was also able to see that the KTMs, exiting in the slipstream, immediately gobbled up the Yamahas, but then at the end of the day, forced to follow the interviews on Zoom with the riders, the information collected is slightly higher in percentage than those following the Grands Prix in their underwear from home.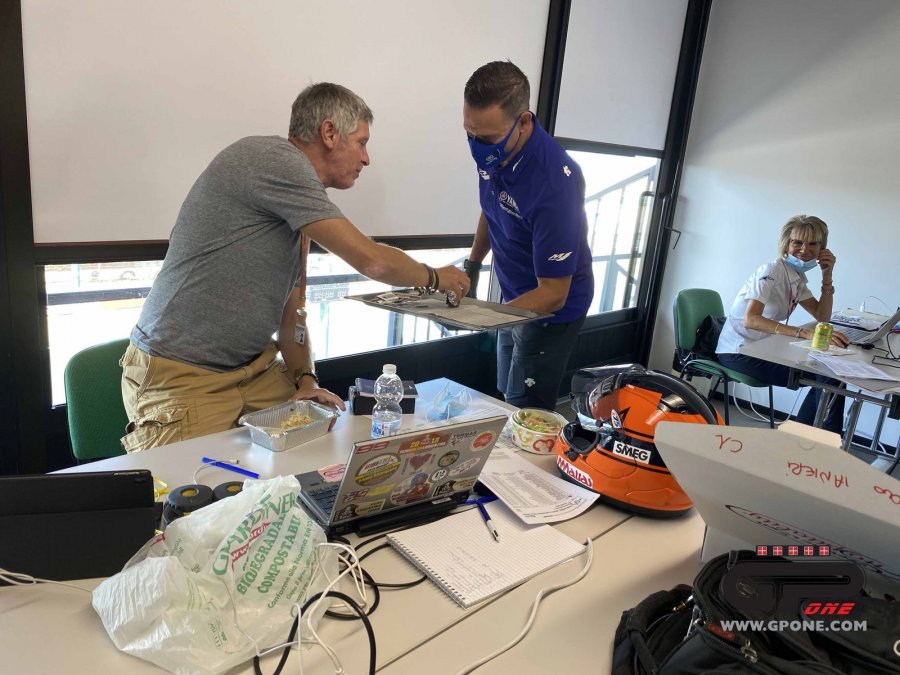 And it is not the same thing: telling you this is someone who has been following the world championship non-stop for passion even before work and who left F1 after 15 years of very difficult coexistence because it meant following something like more than 25 GPs a year with clashes, because the maximum category of motorsport has moved away from my way of conceiving this work.
Being able to enter a garage, greet the mechanics, observe them at work, exchange a glance with the rider as he waits for his bike to be ready. And maybe then talking to each other in person or even stopping to chat about common emotions is what allows us to write with knowledge about the facts of men who pass the time of their youth at 300 km/h.
And do you know why? Because it's no joke living life a quarter of a mile at a time. It means, metaphors aside, always going to the maximum, at full throttle.
In a world as fast as MotoGP, which thrives on speed, not being able to move is the greatest misfortune. We interpret this aperture by Dorna to the press as a first step towards getting back to normal; in these difficult times having already managed to organize the world championship is something absolutely worthy of applause.
Now, however, it is necessary to take a further step forward, not to stop there. "I am optimistic - FIM President, Jorge Viegas told us today - we are working to ensure an absolutely normal 2021 world championship calendar".
In the meantime, however, we must try to normalize this one. Misano has already taken a huge step forward by opening up to 10,000 spectators, the next one is to let us resume telling what is happening behind the scenes.