At Jerez without Marquez, Quartararo puts 'social distancing' into practice
For the second time in a row El Diablo beats Vinales, who also risks with Rossi, and without Marquez on the track is unrivalled. Alarm for Ducati after engine breakage for Bagnaia with Dovizioso only 6th and ... satisfied

Submitted by

Paolo Scalera

on Sun, 26/07/2020 - 18:35
Share
The King was absent, Long Live the King! There is absolutely no doubt about the fact that, with Marquez out of the game after an attempt to return from a humerus fracture in Jerez last week, Fabio Quartararo has worthily taken his place.
It is true that we shouldn't be making predictions after just two Grand Prix races, but we think that the Frenchman will be the world champion's chief target when he returns to the track, at Brno. Moreover, the Petronas team rider is now at +50 and, given how he has been riding in this early part of the championship, Marc will have to nibble away the points in the 11 remaining championship races. If, of course, Carmelo Ezpeleta fails to put Thailand and Malaysia at the end of the world championship, as it is in his intentions.
During this past week, however, there has been a great debate about whether or not the value of this world championship had somehow been depleted without Marc Marquez. It is a question to which multiple answers can be given, even if the obvious one, based on the logic of the points says no, that a crash and a fracture is all part of racing.
The Grand Prix of Andalusia, however, showed us a race without pathos, as far as the fight for victory was concerned, which simply did not exist. 'El Diablo' rocketed away immediately and no one was able to attack him, so much so that we feel that the almost 5 seconds' gap he inflicted on his rivals could have been embarrassing if he had really been forced to push hard.
The man who comes away defeated from Jerez 2, however, was not Marquez who did not race, but Maverick Vinales, beaten on two consecutive weekends on the same bike and on the same track. His second place in the world championship, therefore, can surely not be satisfactory for him. Also because the long shadow of Fabio stretches over 2021, when both will race for the factory team.
In addition, Vinales also found himself having to risk everything to finish ahead of a rejuvenated Valentino Rossi, who at the end of the race did not hold back in his criticism of Yamaha who accuse him of being old and having to adapt.
In our opinion, there was also a second loser, Andrea Dovizioso, third last week and only sixth in this one, but we will talk about him and Ducati later.
Obviously, we were witnesses to a very special race: there were a lot of crashes and several DNFs due to mechanical problems. Only 13 riders at the flag was not a good sign, and although the engineers were quick to point out that it wasn't the heat that was the problem suffered by the engines of the Ducati of Bagnaia, who retired while heading towards an easy second place, and of the Yamaha of Morbidelli, racing at Jerez in late July is certainly not an ideal situation. It certainly isn't for the riders, and it is no coincidence that the youngest, Fabio Quartararo, triumphed over everyone else.
As well as the pleasure in seeing a new star appear on the horizon of the world championship, demonstrating that MotoGP is not a world championship for elderly champions (despite the imperishable Valentino Rossi who makes history in himself), there is also to be noted that in the GP of Andalusia El Diablo improved his fastest lap in the race, taking it from 1:38.549 last Sunday to 1:38.119 today. That's very close to Marquez's 1:38.051 which remains the race record. Something that makes us regret the absence of Marc the Martian. For sure, we would have seen a different race with him on the track as well, but you don't make a championship with 'ifs' and 'buts'.
So… now it is time to share some judgments, which as such are questionable but which are made on the basis of our experience and knowledge.
We have already talked about Quartararo, and also about Vinales, so let's move on to the third placed man, Mr. Rossi. If we say that we like him more today than when he won easily, it's not necessarily a foregone conclusion. Today the Phenom is racing against himself, his age and finally - as he clearly made clear in his final jab - against Yamaha even more than against the rest.
It's true that he was the third of the three M1s at the flag, and moreover closely hounded by an amazing Nakagami, but he got on the podium. He had a bit of luck because when he was passed on lap 12 by Bagnaia it was clear that without Pecco's engine failure he would not have been in that position. And then he also relinquished second place to Maverick, but we believe that the Spaniard would never have accepted finishing behind him. Anyway, welcome back!
Of course, we liked the Pramac rider from Turin even more, and he will now have to be taken seriously by Ducati. For all the time he was in the race, in fact, Pecco never let go for one moment Jack Miller, until the latter - and this is not a rarity - after being passed, put the bike into the gravel while trying to keep up with the leading group.
Even Morbidelli, considering that he is on a Yamaha 2019, ran a good race, until the engine of his M1 gave up the ghost. And the list of the 'Good Guys' ends here, because the two factory Ducati of Dovi and Petrucci were never in the hunt and Andrea above all was not particularly incisive, ending up by completing the race more slowly than last Sunday by more than five seconds, while his best lap was almost identical, less than a tenth slower.
What does this mean? Probably nothing. That is Dovizioso's way of racing. And without a doubt it can take him far since it allows him to finish all the Grands Prix in which he takes part. If he were a boxer, we would say that he has nice footwork that allows him to trot around the ring, absorbing few blows, which allows him to fight for the final prize on points, but this only if he is not in the ring with a slugger. And while in 2019 and previous years he was up against Marquez, this year we can safely say that with Quartararo it's going to be double trouble.
There is a big 'but', of course: and it is the resistance of the Yamaha, visibly slower than the Ducati on the straight, even on a circuit as full of corners as Jerez and now also with the doubt about the endurance of the engines. However, Dovi remains an important pawn because he takes the punches well. Even this Sunday's sixth place, an important result considering that it would have been a defeat without the breakdowns of Pecco and Morbido, ignoring the crashes, was judged by him as 'sufficient'.
If you don't appreciate all these boxing metaphors, they might call him a baseline player in tennis. He always gets the ball over the other side of the net. Once again: with Dovi you can win, but only thanks to the mistakes of opponents or a succession of favourable tracks. Because the Ducati might be 'worse' than the Yamaha but it goes well and for at least four seasons it has been a title contender.
Sorry: numbers are important to us, but they don't say it all. This is why we hope that Marquez will be back soon, and in good shape, because in our opinion with him on the track the bar is positioned at a much more difficult height to overcome.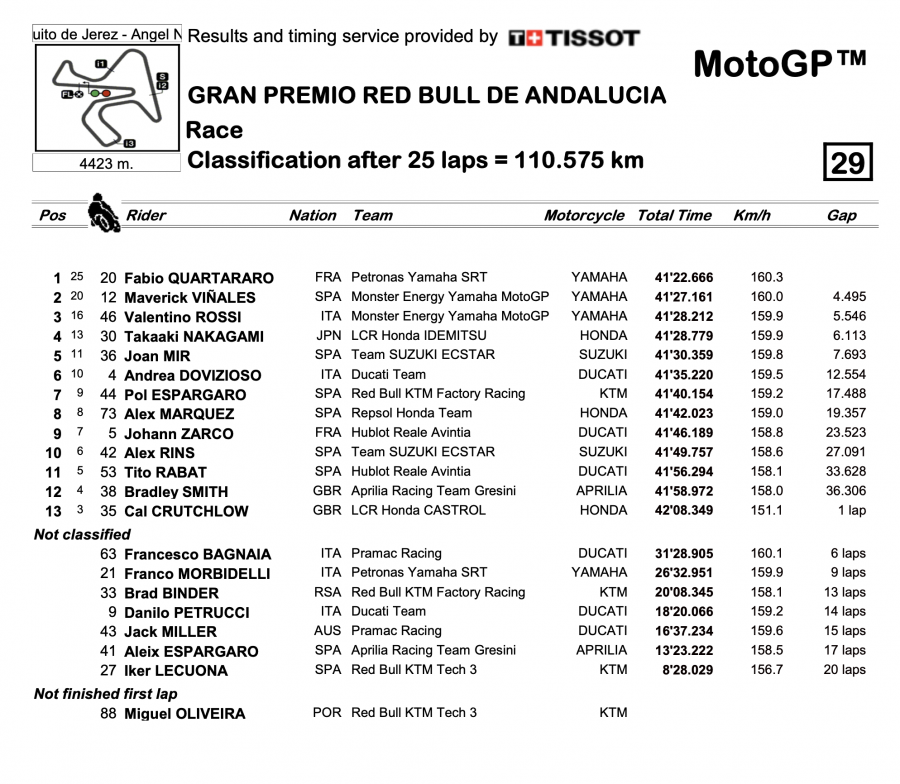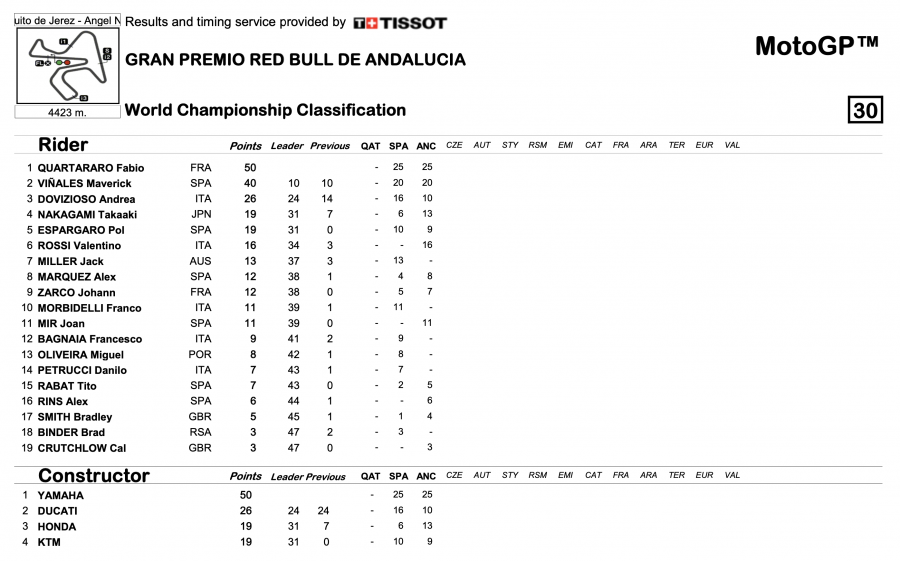 Photo credit: Dorna
Share