Max Biaggi, signs from the future
The 6-time world champion enjoyed himself immensely at Sepang on the RSV-4 X and for the past week has been posting about his 'refound' speed, but for the moment, has ruled out a return to the track at Sepang

Submitted by

Paolo Scalera

on Fri, 10/01/2020 - 10:57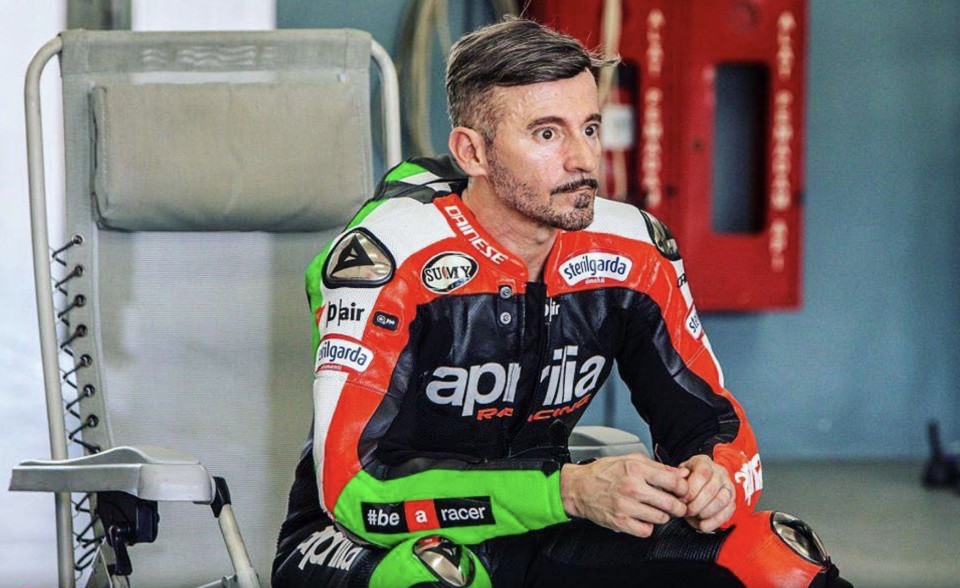 Share
The latest post on his Facebook page is one that makes you think:
Hello everyone,
Today I was thinking about the fact that years later when I get on the motorbike (like a few days ago in Malaysia) I have fun like crazy!
And unfortunately, it's my sentence ... I'm still damn fast
Eyes on the future ...
Stay tuned
Max
What must a poor fan of 'the Roman Emperor' think after Biaggi bombarded us with tweets in the last week in which he reminded us that he can still go fast on a motorcycle?
The opportunity arose during a test in Sepang, Malaysia, when he was fulfilling his commitments as Aprilia testimonial by doing some laps on the new RSV-4 X, a limited-edition version of the bike with which the Italian ace won two Superbike World Championships.
We all take it for granted that Max still goes fast on a motorbike, but this time Biaggi hinted that he went a little more than just 'fast', taking into account that he was still riding a stock production bike, albeit a high-performance one.
In fact, Massimiliano has been out on the track for some time now and even though last year, during Aprilia's 'All Stars' celebrations at Mugello, out of all the former riders there he seemed to be the one who was most reluctant to open the throttle, recently - and evidently - he's shaken off a bit of the rust.
Then again, the love of speed is an ugly beast. It's a vice that never completely disappears, and it has now emerged again despite the fact that after his bad accident on 9 June 2017, when he crashed during a training session at the "Il Sagittario" circuit in Latina, Max said with conviction that he would no longer get on a racing bike .
Max, in intensive care, wrote on his mobile phone: "This time I was afraid of dying."
We were amazed, but not surprised. With multiple fractures to the ribs on both sides of the chest, unable to speak because of the oxygen mask that was helping him breathe, from his hospital bed, he passed the phone to his nephew and wrote to me: "This time I was afraid of dying."
Sooner or later it happens to those who one of my mentors, Ezio Pirazzini, with imaginative description, described as the 'knights of risk'.
They race until the thought of immortality continues to be strong and intact, but there comes a time when this fragile crystal vase breaks. And fear breaks out.
Jorge Lorenzo retired after admitting he was afraid
It's normal, it's human. It happens to everyone. It happened recently to Jorge Lorenzo, who is a great friend of Biaggi's. And even if he never talks about it openly, even the great Giacomo Agostini admitted that he decided to retire when he realized that if he wanted to win, he would have to take too many risks.
Why, if the talent doesn't fade and the 'need for speed' still flows through your veins?
The answer is simple: age. At 30 you are no longer the same as when you were 20 and at 40 something is missing compared to 30. Mind you: it's still possible to put in some great performances and, perhaps results, but episodically and no longer with the frequency to which one was accustomed.
A few days ago, on Facebook, Claudio Terruzzi, one of the great protagonists of the old Paris-Dakar Rally, an official Honda and Cagiva rider, informed us that for the first time he was beaten on a bike by his teenage son. He obviously spoke of it as a father, with a mixture of dismay and pride. And in the end he was happy.
What greater pleasure, in fact, can there be than to pass one's passion and experience on to a child, or even to a pupil?
Time, however, waits for no man, as Valentino Rossi himself is recently realizing seeing as he will turn 41 on February 16th.
And Rossi, like Biaggi, began some time ago to nurture young talents. Being able to see themselves in them again brings a lot of satisfaction.
It's true, Biaggi likes to amaze the world: in 2015, after two and a half years away from racing, he returned to the Aprilia RSV4 RF and again in that same season he returned to compete in the Superbike World Championship, taking part as a wild-card first in the Misano race and then at Sepang, even managing to get on the podium.
Max, who officially retired from racing on 7th November 2012, with a press conference at the Vallelunga circuit, will turn 49 on 26th June.
And he has ruled out returning to the track at Sepang as a test rider.
When everything is fine in life, the best result you can expect is to grow old.
"If any man shall add unto these things, God shall add unto him the plagues that are written in this book: and if any man shall take away from the words of the book of this prophecy, God shall take away his part out of the book of life, and out of the holy city, and from the things which are written in this book." (Revelation 22: 18-19)
Share