Max Biaggi: Rossi's enemy? Simply time
"I miss the rivalry with Vale. I like both Vinales and Marquez. I would have liked to be Aprilia team manager"

Submitted by

Paolo Scalera

on Thu, 11/05/2017 - 13:32
Max Biaggi is not particularly keen to celebrate his 46th birthday on 26 June. It's a matter of numbers rather than years though, as the six-time champion, who competed in his last race at the age of 42, is an example of longevity even for Valentino Rossi, who is currently leading the championship at 38.
"Rossi is doing really well – admits the Corsaro, who adds – and recently I was really pleased when he said his greatest battles were with me. We had a great rivalry and I miss it a little. Today he has no equal. His real rival is not Marquez nor Vinales: it's time".
You raced until you were 42, is there an age at which to stop?
"There is no fixed age at which to stop in this sport – analyses Max who is at Jerez preparing his Moto3 team that will debut with Mahindra in 2018 – a motorcycle racer isn't a 100-metre sprinter who needs that muscular explosiveness. Though he also needs that. For me , the last podium in World Superbike at Sepang at the age of 42 was a bet that paid off, but I had more trouble than I expected. Such as? it was difficult to get back certain automatisms, but mainly the head was thinking but the body wasn't reacting exactly as I would have expected. Speed... is speed,  so when you want to put the wheel on a precise trajectory and you miss it, perhaps even by a few centimetres, that means you lose hundredths or tenths of a second. Then, sure, you can make some of that up during the race and thanks to experience, but not all of it. I remember that at the time I was thinking how only a couple of years previously everything seems to happen more slowly".
Valentino doesn't seem to have reached that point of his career yet.
"No, he's lucky in that he's never stopped".
But in recent days he's said that he's perhaps lost a little courage, compared to when he was young.
"That's normal, but it's not courage. You lose the explosiveness in your reactions, so you start to ride differently".
After that last race, you decided to retire. How do you come to that decision?
"There's a time for everything. I think I was one of few riders to stop when I had a contract in my pocket. No, Stoner did it too and I understand that. You give up a year of glory... and a decent amount of money. But if you want me to tell you what Rossi will do, I honestly don't know. It's a very personal decision that involves many factors".
What has changed between your era and the current one?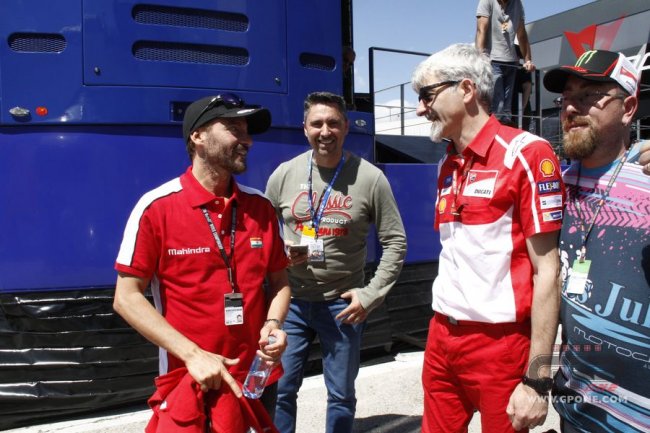 "Very little I would say. There are still two Hondas and two Yamahas out front. I raced with both manufacturers, I can't talk about today but in my day HRC was almost a militarised structured. It sees to have become more friendly with the arrival of Shuehei Nakamoto".
What have you noted after the first European GP?
"Firstly, Jerez has put Lorenzo back among the frontrunners...it was a very difficult race as it was very hot".
Who rides best?
"I like both Vinales and Marquez, despite them having very different styles. Maverick is a chameleon, he can adapt quickly it seems. Marc is incredible, it's as if he's always on a knife edge but he has great control of the bike".
So you don't really support any one manufacturer over another.
"When I was racing, I was more comfortable in Yamaha but in reality I've always felt like an Aprilia rider, also because I won the most with them".
In fact, we expected you to take a role in the team now that they are back in MotoGP.
"That was what Roberto Colaninno promised me, but it didn't happen. It never went beyond a proposal. I still ask myself why".
As a result, you're now an ambassador for Mahindra, on your first year as team manager in the Italian Moto3 championship .. with ambitions to grow. How is it on the other side of the fence?
"The main problem is finding the financial resources, at the start you cannot even think about a profit. Racing is an investment right now. I hope we can soon find a rider who will make the difference. It's difficult to predict the birth of a champion. My Davide Baldini is just a 14 -year old pup, but he's got real courage".
This interview appeared in Corriere dello Sport on Friday 5 May