Superbike has been brought to its knees? Let's help it back onto its feet!
Next race at the end of September. The final blow to a dying championship. What can we do, all together, to breathe life back into it?

Submitted by

Paolo Scalera

on Mon, 11/07/2016 - 20:10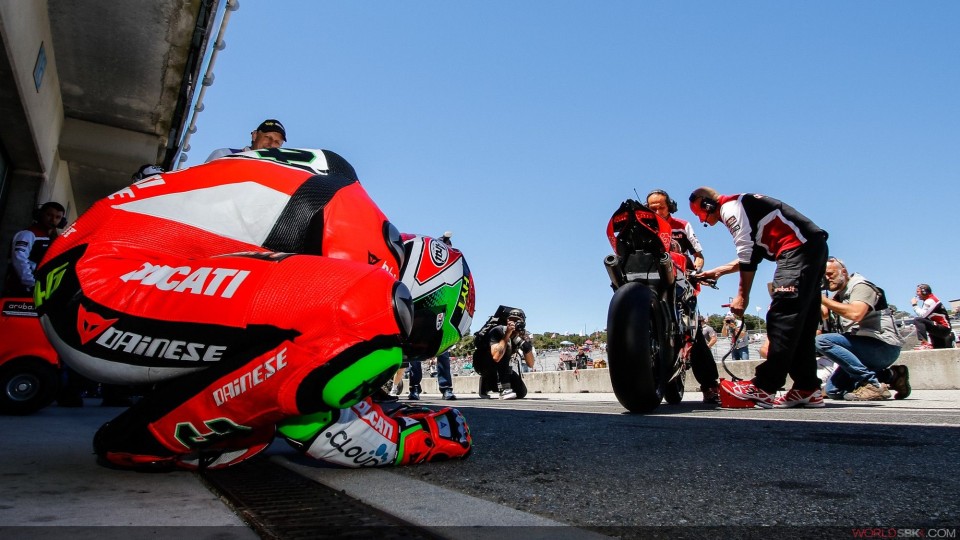 And may the last one through close the door. Ten weeks, more than two months, separate the Laguna Seca Race 2 from the next round, which will take place on 18 September in Germany.
It is an excessive amount of time that, in and of itself, is enough to drop the temperature of any championship... let alone that of Superbike that has been in intensive care for some time now and that has almost disappeared, at least in any significant way, from the newspapers, even sports dailies.
There is much to discuss concerning the reasons that led to this rapid drop of attention.
There is talk of the absence of any real celebrities, of technical regulations that should be revised, of the wrong calendar dates and of times and broadcast slots that should be reconsidered.
All true. Each one of these arguments is one hundred percent true and yet, on their own, they would not be enough to justify such dire circumstances that, who knows, perhaps by coincidence coincide with the championship being purchased by Dorna, who is now managing, in addition to MotoGP, the 'junior championship', ex CEV and keeping an eye on MotoAmerica in the States as well.
That is a lot of pots on the stove, over the same flame, difficult to cook to perfection if you are unable to identify your diners' tastes. Because some like a blood rare steak, some like it medium and some like it well done. And it is easy to spoil excellent ingredients. All it takes is a moment of distraction.
In our opinion, this is what is happening to Superbike, a championship that has roots that date back to the days of Grand Prix and street bikes. The former were 2-stroke prototypes, and the latter were motorcycles that had to be modified for track use.
You remember the 'factory derivatives' that were popular in the '70s, right? They raced in the Daytona 200 miles, in the Imola 200 miles, but also at Vallelunga, Monza and Magione.
The Honda CB 750 and 500 bikes, the Triumph Tridents, the Kawasaki three cylinder 500 and 750 machines and many, many others. Those were the days of Ceriani and Fontana drum brakes and two-piece handlebars. All you had to do was mount a pair, lower the saddle, change the exhaust and in a heartbeat you were on the track with many, many fans cheering you on: the same fans who went to school or work riding the same exact bike.
In that early category, talented amateurs and champions raced together. Few remember this, but at Daytona, on a Trident, a certain Mike Hailwood also raced.
Other times. In short, a bit like if Valentino Rossi were to square off against Mr. Nobodies... and he would not even be certain of beating them!
But time rolls on and you have to keep up with it. Today the 2-stroke prototypes no longer exist and supersport bikes already have 200 HP from the factory!
Anything but just mounting two low -handlebar halves...
So you need to come up with a remedy and if the SS are no longer selling or not selling as well as they once did because riders' tastes have changed, you have to keep up with the times.
But be careful with experimenting. Who would watch a football match with the first half played on Saturday and the second on Sunday?
Take care because, unlike what the Italian comedian Totò said, it isn't always the sum that makes the total, because the spectators, although divided, are still the same.
Instead, the user basin needs to be broadened.
And if, as in the case of Superbike, the press - the primary engine of any event - is absent, why not ask what can be done to attract it again?
There is, staying in the motoring field, a great example in the past of Rally racing: the car manufacturers, along with the sponsors, present in all the newspapers with advertising investments, put pressure on the media so that they would follow the events. And it worked.
Because there is nothing wrong with asking for a return on one's investments.
Industry and operators eat from the same plate.
On the other hand, none of the motorcycle manufacturers has any interest whatsoever in doing so. They are simply not interested. Whereas they should, instead, put pressure on the domestic importers so that they will take to the pitch with their teams to publicise the manufacturer's flagship product.
And make no mistake: this is what made Moto2 disappear from the mainstream media. Who has any interest in Kalex, powered by an outdated Honda CBR 600 engine? How much does the Kalex count in an increasingly commercial world of motoring competitions?
We'll tell you, even though we think you already know: nothing.
Let's be clear: there is no single culprit in the current situation. Quite simply, unlike the car world that is able to self-finance the series they are interested in, the motorcycle world has still not realised that it is only by working together with the other players involved, FIM, Dorna, Manufacturers, sponsors, riders and the press that a virtuous circle can be created.
Obviously, it is not that everyone must talk to everyone else. That would only create massive confusion. But the manufacturers have contacts with the press, so FIM should have them with the manufacturers. And as for the sponsors, there was a time when they themselves had an association.
If we think of our sport as a common asset, perhaps we will be able to get Superbike back on its feet. If, on the contrary, each of the involved parties sees the other as an enemy to defeat in order to clear an open way, instead of as a resource to consult, it is simply over.
It would take, as the ex-President of FIM, Francesco Zerbi used to say years ago, an enlightened monarch.
Do you have someone handy to propose?