The weather was not kind to the Ducati riders, who arrived in Jerez to spend two days on track with the Panigale V4S. They had to settle for just one afternoon, today, with a dry track, but they didn't hold back in any case. For some it was the first time on the Borgo Panigale superbike, while for others it was an old acquaintance.
Among these was Pecco Bagnaia, who has been training with the V4 for a couple of years.
"It was very nice, we had a bit of bad luck and we only managed to lap one afternoon instead of two days – was the only regret of the new factory rider - I still managed to do 80 laps, I lapped a lot and I'm very happy. I was missing certain sensations and the ones you experience on the Panigale V4S are very similar to those of a MotoGP bike. I'm happy because I really wanted to ride a motorcycle ".
Rookies in MotoGP and also on the Panigale V4 were the two teammates Enea Bastianini and Luca Marini. Both were very happy at the end of the day.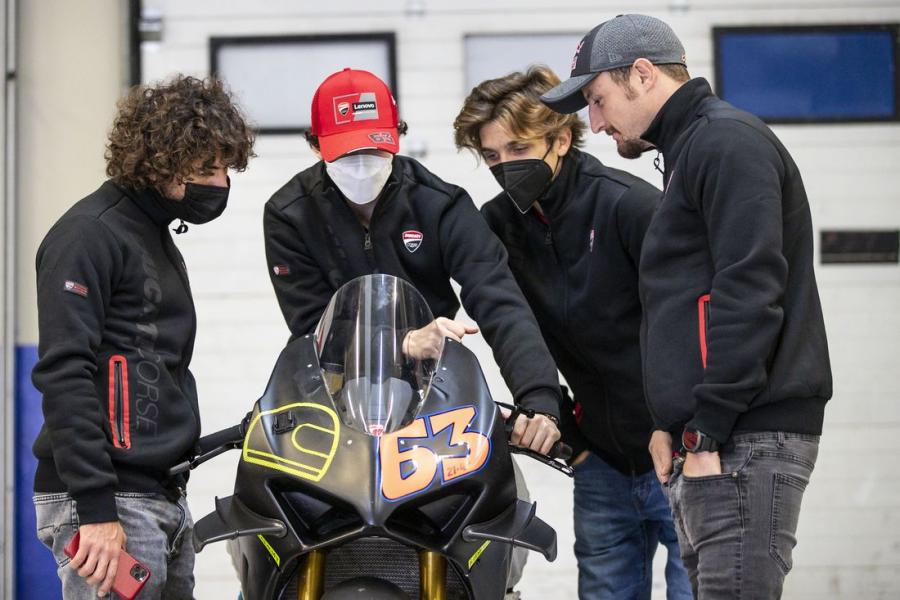 "The first impression was a lot of power and a lot of fun - smiled Bastianini - I was expecting it to be more for the road, instead it's a real track bike and I felt good. I managed to do enough laps even if the weather was not good, but on the other hand the track was quite dry and we had a lot of fun ".
The purpose of this test was to shake off some rust from the winter months and everyone left Jerez satisfied. Including Luca Marini.
"An incredible feeling – were his words - After a few months off, getting back on a bike always gives a different impression and this time I was on the Panigale V4, which has incredible power. I had a lot of fun, unfortunately we could only lap one day but it was a very intense 80 laps. We all did the last exit together to have fun and we were all pretty even, but I did well too. I am happy with this first approach to the Panigale and I hope to try it again soon ".