There is one team that last year scored a hat-trick, launching three young riders and that is the Aspar team. In the World Championship it won the Moto3 title with Albert Arenas, with Izan Guevara it stamped its authority on CEV and, last but not least, with the same colours David Alonso made the European Talent Cup his own. It is no coincidence that Jorge Martinez's team has had this success, because his structure is in effect an Academy, a school where talented young riders grow.
When Gino Borsoi, the team manager, answers the phone we can hear the sound of engines in the background, he is busy in a training day on the track with his riders. "We do internships and, even if Covid has ruined all our programs, the idea is to do a couple of them every month - he explains - Today we are at a kart circuit and they will train with the bikes on asphalt, tomorrow instead they will do flat track ".
How many are there in all?
"We have two riders in the Talent Cup, one of which is Italian, Edoardo Boggio, and four others in CEV Moto3, of which 3 are managed directly within our team while the fourth is supported by an external team, MTR, which is Italian. Then the four who race in the Moto3 and Moto2 World Championships and two others in MotoE ".
In 2020, a lot of hard work paid off…
"Last year we won the Moto3 World Championship with Arenas, the CEV with Guevara and Alonso the Talent Cup, it was an extraordinary season, we won all the championships we participated in, it will be difficult to repeat that (laughs). When you have riders who are fast, in these training days the level increases because they push each other hard".
"Now the riders are forced to train and can grow very quickly"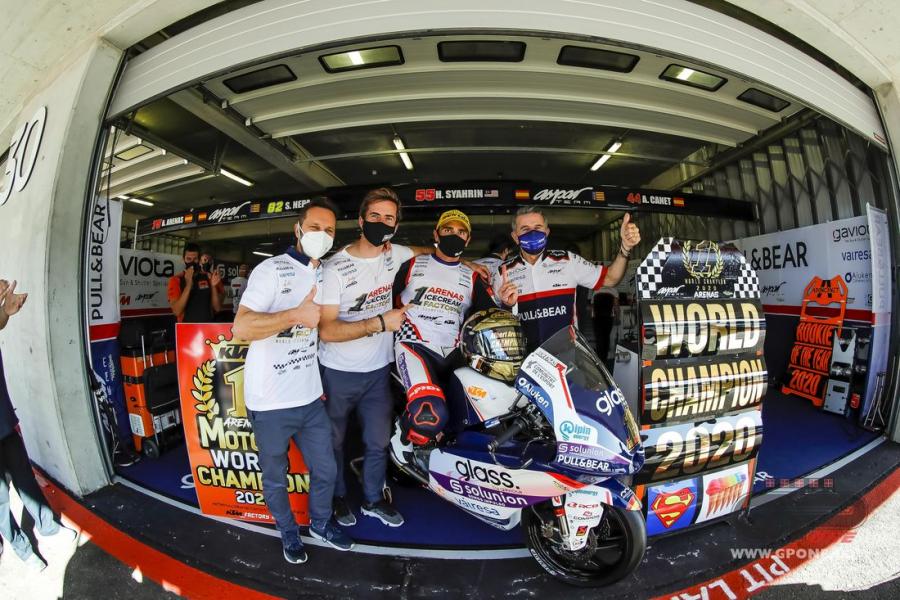 Is it easier or harder for a rider to make it to the World Championship than when you started?
"From a certain point of view it is easier, because they have more tools and structures in which to train, like ours or those of Valentino or Leopard, and going up against the World Championship riders, this allows them to improve quickly. In addition, you ride a lot more on motorcycles, young guys are much more physically prepared, while before you only went to the gym every now and then and on a supermotard, while now almost everyone has their own personal athletic trainer from an early age, they train every day and use bikes very similar to the ones they ride with. Preparation increases in a rather short time ".
And on the other hand?
"It's more difficult, because everyone trains like this and if you don't, your level doesn't improve that fast and you are out of the loop. You are obliged to follow these systems because the level of preparation of the riders is so high that they are all strong ".
"What Valentino is doing is incredible, I don't know where he can find the desire and spirit to fight on"
It is very different from when you made your debut in 125, at Mugello in 1996. Rossi also entered the World Championship the same year, with the difference that he is still racing. Do you think about this every now and then?
"Often (laughs). When I see Valentino continuing to fight for the podium, it comes to mind: it's incredible. I don't know how he continues to bring out this desire and this spirit to continue fighting and risking every Sunday ".
Any regrets?
"I'm happy like this, sometimes they ask me to try some bikes but I don't ride anymore. Several years ago I tried an SBK and I realized I sucked, I was so sad that I stayed away from the bikes (laughs). I started karting, a couple of years ago I lost the Valencian championship by just one point. Going fast on four wheels, at a certain level of course, is easier, on two wheels you have to have the right spirit and mind otherwise you risk just getting hurt ".
How does Rossi do it then?
"It's amazing that at over 40 he still has the speed to fight with riders who were born with a different culture. At the beginning, Valentino maybe passed in front of the gym once a month, he was not physically prepared, which is now necessary to stay at the level of the younger riders. At the beginning his talent was more than enough to stay ahead, probably today it would still be enough but some races, at times, he would lose because the others are better prepared. "
"You can't teach animal instinct to a rider. Parents? Outside the garage"
What do you look at in a young rider to realize that he can lead go a long way?
"You can see how he trains, how much he likes it, how hard he works and how much time he dedicates to this sport. When they are little they all have a desire, they start with a positive spirit, then growing up they can change: there are those who start going around with friends, those who want to study and so on. It is really difficult, when they are so young, to see the future of a rider, but you can see the way he behaves and the desire, if one does it because he really likes it or because he is pushed by his father ".
On the track, however, can you already see the characteristics of each rider?
"The hardest thing to learn when you are young is braking, being aggressive, attacking corners. If a rider has this natural instinct, then the growth process is much easier and faster, but if you don't have that animal instinct, like Marquez or Valentino, you can't teach it. "
Not only the riders have changed, but also the teams: they have become more like academies…
"Over the years we understood what the right way was to find and train new talents, so the team becomes a school. It is a way to train the rider with the character and style of the team and it is taught not only to them, but also to the parents ".
Can mom and dad become a problem?
"We have to make them understand not to interfere, because ours is a sport in which the rider has to manage the races and improve. The parent's role is to take the child to the track, in the end he does not have the experience or knowledge of motorcycles, he must be a simple companion. So we immediately explain to the parents that they cannot enter the box and make decisions and we are lucky because they immediately understood our system ".
"With Covid, sponsors are cutting budgets, I hope for an open paddock mid-season"

The Moto2 and Moto3 teams are the real private teams in the paddock, how has the Covid epidemic affected your work?
"We have been conditioned by the economic aspect. The MotoGP teams are covered, to a certain extent, by the manufacturers, while we live thanks to the support of the sponsors. When there is an economic crisis, one of the first things companies cut is the sponsorship budget. In the end you always work the same, with the same expenses, but the money is less and less. But you have to maintain a certain level if you want to win and you can't stop, otherwise you won't get any more results and therefore you can't even offer that image that attracts the sponsor ".
They are trying to reopen the paddock, how important would it be to have at least guests this year?
"It is one of the fundamental points for everyone, bringing sponsors into the paddock is one of our main plus points. I sincerely hope things can improve, I'm quite positive even though I know it won't be easy. Dorna is moving in an excellent way, last year it did an impressive job, more than I expected and better than in Formula 1. This year will not be easy too, but I see that they are always ready with a plan B. "
Would you accept a similar calendar to last year's?
"The problem is always the budget, so logically I would like a normal season for the sponsors. Without people in the paddock it goes without saying that the situation is not good. The hope is to return to normal by mid-season, but nobody knows what will happen ".
"Without Marquez the cat the other riders played, but it's a problem for motorcycling not to have him on the track"
The World Championship will begin at the end of March and we don't know yet if Marquez will be there. What's your take on what happened to him?
"I know what everyone else knows, not much more, I don't know what really happened. Having lost Marc for a year is a big problem for him and for all our sport, we hope he will come back as quickly as possible, the lack of a figure like him is difficult to accept. But when the cat's away, the mice will play and last year they did it a lot (laughs). The MotoGP World Championship last year was great and interesting ".
Did you expect Mir to win the title?
"I have always believed in Joan, in 2014, if I remember correctly the year, we were about to sign him because he was left without a ride and risked not being able to race in CEV, but unfortunately it didn't go through. Honestly, I didn't think he could win the World Championship, but that he was one of the strongest riders in MotoGP, yes ".