"Oh, hello, I'm on the PlayStation, playing Call of Duty: Warzone, I don't know if you know it, just when my eyes are dropping to the ground I change and watch a movie, a TV series, but otherwise I'm staring there, soon I have another session, this morning I had one against Bagnaia, a lot of riders play Call of Duty, Migno, Suzuki, Celestino ... ".
And so to capture Nicolò Bulega's attention, we talk about motorcycles. He has returned home after his operation at Bologna hospital, he will have to rest for three weeks, then a period of rehabilitation before returning to the profession of speed.
"In February I will start again and for the first race I will be ok, sure". He's already got a fixed thought to make amends for his 20th place this season in Moto2. Bulega is one of those guys full of joy. Even if sometimes the bikes have given him pain. Physical and mental: the cognition of pain takes on different forms.
"The injuries have weighed quite a lot. But the thing that hurts me most is that it was almost always not my fault. With my biggest injuries it was like that. At Le Mans, 2017, six broken vertebrae with oil on the track and Bastianini's bike in my back. At the end of 2017 Antonelli's bike on my foot. Now my shoulder because of Di Giannantonio's crash. I'm a little pissed off. Yes, I sometimes cry. Not much, but not because I want to be tough. It's just that I am quite analytical, I look at things immediately and when I see that it is not my fault I don't mind too much. On the other hand, when it is my fault, I am too critical ".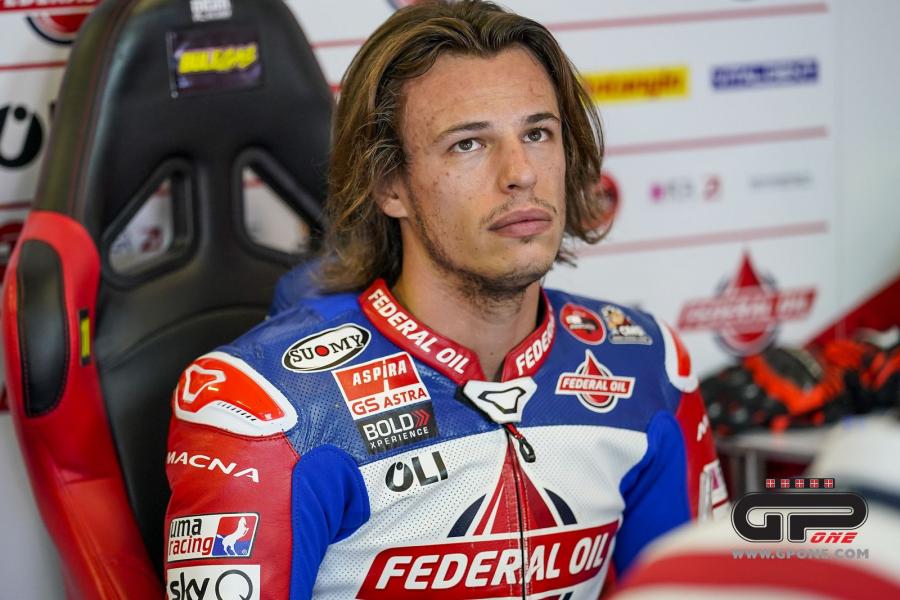 Let's start from here. What sort of season was it?
"I am disappointed. I was hoping to have a slightly better season. Unfortunately for a variety of reasons we did not do it. We've been quite unlucky. And I had a telemetry technician in his first year of racing, one with little experience. We struggled for this reason too. But for next year we should be fine, I will have a top-level team, and I can't wait to get started. Even if now my only thought is to get back into shape ".
Paddock fights due to telemetry?
"No, that sort of thing no. It was the first year he was involved in racing, he had no experience and both me and the crew chief could not give a certain type of information. In addition to advice to the rider, the telemetry technician can also give it to the crew chief. In the last race, in Portimao, we changed him. A guy with whom I got on very well. I also told Gresini, he is someone with a great desire, who has a good future. I told Fausto to keep him ".
Do you like this aspect of data?
"I had to adapt to it. The way I am was a bit of a struggle, especially at the beginning. I like more talking to the crew chief, explaining my feelings, solving. But I bust my balls looking at telemetry. You have to be there for hours and hours. In reality it is very useful, these are things that make the difference at the end of the weekend ".
What have you been able to understand about yourself over the years, what kind of guy have you become?
"It has certainly been difficult for me so far, I have had so many ups and downs, moments in which I have thought so many things. Things that surely have helped me to mature. For the moment I am trying to do my utmost, indeed more than my best, to get those results that I have not been able to achieve, results that I would have liked. I have to try to succeed ".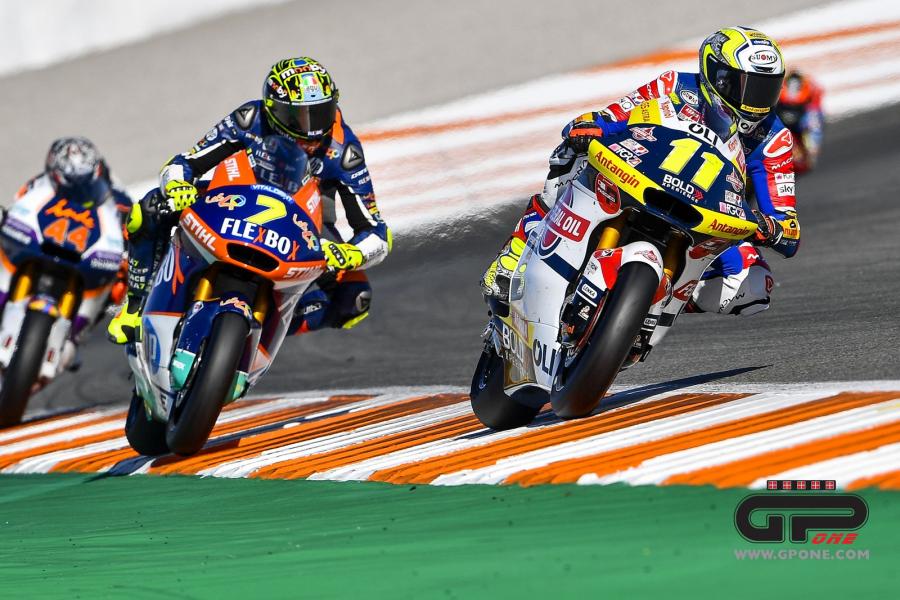 Did it matter in your head that everyone considered you the rising star, the new Valentino Rossi?
"It is true that a lot of people have said that, but I have always tried to keep my feet on the ground. At 16 I was younger than now, I was less mature, in my head, it's not easy for a 16-year-old while everyone tells you that you are the new Vale, it's not easy. I tried not to think about it. And I think it was more of a mistake by the people around me, I never asked anyone to compare me to Vale, to be the centre of attention, I never asked for everyone to pump me up ".
Bulega: " Valentino Rossi and I have remained on good terms but we don't talk often"
Do you still hear from Valentino?
"We don't talk much, but we have remained on good terms and when I see him we say hello without any problems."
Is he still your mentor?
"Vale is certainly a great benchmark for me. I am happy to have been to the Academy, I learnt so many things. And I have many memories with Vale, I stayed there a long time there, I have great memories. We don't speak very much to each other because when a working relationship ends, the rest also fades a bit, it's normal ".
Are you a different rider than a few years ago?
"No, I'm still the same. I've improved in managing the pressure a little more, before I suffered from it. In the last few races this aspect has helped me a lot. I went better, and I liked the bikes more. I always have the same determination. I'm sorry I wasn't able to get the results I was hoping for. But there will be the moment of redemption, that moment will also be there for me ".
Have you ever thought of quitting, throwing in the towel?
"Never. I love what I do. I consider myself very lucky. I say it sincerely, it's true. I see friends who often complain about what they do. But I really like it, and for that I'm also double lucky".
Does losing teach you something or is it just rhetoric?
"Losing is just bad. But it makes you very strong. I feel matured because not being able to get the results I wanted has helped me do it. And if one day I manage to add everything together, I think I'll be much stronger than before. I'm just waiting for that moment ".
"At the end of this year I was understanding something. The good moment will come soon. I hope the next world championship is very good for me. And I'm glad I had an operation on my shoulder, I would have run the risk of having it come out in the tests, I would have had to operate and I would have missed some races. Instead like this, no. I am convinced I can arrive at the new season with the right preparation, and I hope to be one of those who will be strong and to be able to get back what I have lost ".
Bulega: "Moto2 is very nice, and the strong ones here are also strong in MotoGP"
What sort of category is Moto2?
"Very, very nice. If you are strong, it helps you a lot, and the strong ones in Moto2 do well in MotoGP too. The level is high. Then some teams manage to find a small difference, which at the end of the year becomes a huge difference. For example in Valencia I started fourteenth, three and a half tenths from the first. It is a difficult category, everything must be ok ".
What did Luca Marini not have this year?
"I would say little, he went very well, he risked winning. I don't know if he had any technical problems. Certainly someone who fights for the world title right up to the very end went well".
And Bastianini?
"I'm happy for him, we have also become friends, we often see each other and have something to eat with our girlfriends. We see and frequent each other often. We were friends before, but in the last six months we have become even more so ".
Are young riders in a too much of a hurry to get into MotoGP?
"Yes, there is a lot of hurry, but it is also true that then they go fast. If someone says I'm going to MotoGP and then comes last, it's clear that he's wrong. But what if you do like Quartararo? They laughed in his face before he went to MotoGP. And look: he fought up to three, four races until the end for the title. The year before he fought with Marquez. So it depends on the situation. As for me, however, I want to start doing well in Moto2, I have what it takes to do it ".
Bulega: "I complimented Mir, I liked him, I fought with him in the CEV"
Did Mir have what it takes to win the MotoGP title?
"I wrote to him and complimented him. Until a few years ago I was fighting together with him, in the CEV, and I even beat him. It was a great world championship, I liked it. Unfortunately there was no Marquez, who is very strong, we know. But it was nice, there were a lot of winners ".
What generation of riders is yours, have you got any idea?
"Much more serious than in the past, perhaps once upon a time we lived a lot more casually. Now everything is closer, the level has risen even more. We are a little bit more athletic, before we trained less. Maybe we are a right bunch of 'dickheads', as they say in Romagna, but I don't know if you can write this ".
Bulega: "I owe a lot to my father, he believed in me and that's not necessarily taken for granted"
To your father Davide, who is also an ex-rider, what do you owe?
"I owe him a lot. If I do the world championship, much of the credit is his, he believed in me a lot, and when you are little it is not always taken for granted that you find someone who believes in you. Until a while ago I found his advice very useful, now I prefer to do things more on my own. It's true: he knows a lot, he understands a lot, he had a team, he used to ride, but it's also true that times have changed a lot, the bikes are different, people work differently. The basis is the same, but immersing yourself in today's world is different ".
What kind of relationship do you have instead with Gresini?
"Fausto has been very good with me, he welcomed me well, he made me feel as if I had been here for some time, and this is something that gives a rider a lot of confidence. I don't know him very well yet, but there will be opportunities ".
Are you stubborn or emotional?
"I'm emotional, a lot. But also very stubborn. I am emotional because I feel a lot of emotions, mine and those of others. But I know how to control them quite well ".
Bulega: "I'm afraid of the tensions in the world: we're not doing a good job"
Is there something that scares you in life?
"Yeah. And they are not things that depend on me. For example, what can happen in the world scares me. I read the newspapers, I watch the news: we are not doing a good job. Pollution, tensions. All these things are not good for us, we have to look for another direction ".
And Covid?
"Yeah, even that scares me. I hear that a lot of people won't get the vaccine, or so they say. This pandemic has also impacted what we do, of course. We have to travel constantly, even this year was difficult. I have to say that the organizers were good, they did a great job. Although there are a lot of people in the paddock, there have been few infected people ".
And you, how did you live it?
"Trying to be as careful as possible. I've seen it, this virus is no joke. Many friends have caught it, including family members. My girlfriend caught it too. I haven't seen her for more than a month, she got it while I was in Valencia. She, her mother, her father were sick for a couple of days. Better now, they are waiting for the result of the swab ".