Just think that when they teamed up, about a year and a half ago, there were no lack of ambitions, so much so that the expectations were very different then. The professional relationship between Genesio Bevilacqua and Midori Moriwaki has come to an end in Aragon, a split that culminated in MotorLand with the separation of the two sides.
While waiting for the official press release from the team, Althea has already begun to dismantle the hospitality in the paddock and take away the material from its box to go home. The rumour spread at the beginning of the weekend and now here is the confirmation.
Genesio Bevilacqua, who gave us some exclusive declarations, shed light on the matter: "We started with good intentions last year - said the Althea boss - now I have to try to safeguard the prestige of the team, given that we cannot go to the races with the Stock version bikes ".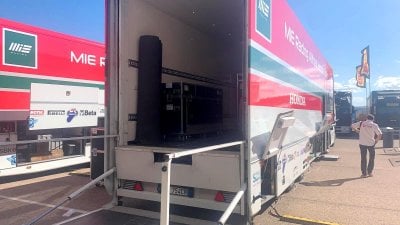 Bevilacqua continued: "The Althea team is not entered in the championship, it is Moriwaki, which will continue its way. Personally, I thought I would find a technically structured team, but that wasn't the case. We therefore withdraw our services, like the structure linked to hospitality, because I no longer believe in the project".
Genesio Bevilacqua's outfit thus draws the curtain on its 2020 effort at MotorLand and as a result the World Championship also ends for Lorenzo Gabellini, who had made his debut at Jerez a month ago. From next week there will only be Takahashi on the track, while to take care of the hospitality service, a MIE truck will set off from the Czech Republic to replace Althea. In Prague, in fact, Moriwaki has a second base after the one in Japan.
Share