In the heat of the moment Franco Morbidelli had attacked Johann Zarco with some very harsh words, so much so that then the two riders met up for a face-to-face clarification, together with Valentino Rossi. The Frenchman assured everyone of the involuntary nature of his manoeuvre, but this was not sufficient for the Petronas rider.
At the moment, the FIM Stewards have not seen fit to make any statement on the incident and it is not even known whether Zarco will be liable to any other penalty.
Morbidelli, however, took the view that there should be some form of penalization: "I think that every time both riders crash it is common habit to call it racing incident and situation solved ... but this 'racing incident' happened at 310 km/h great luck we're in one piece, but someone needs to pay his mistake" he intervened on Twitter in a discussion with some fans and journalists.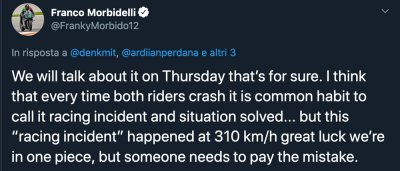 Then Franco was even clearer: "you can push to the limit, but if … you do wrong, you pay".

The Yamaha rider did not want to question Zarco's alleged good faith but what he did: "I wouldn't focus too much on the intent but on the action", he concluded.
Share