At Brno Valentino Rossi will have the chance to be the first rider to cross the 200-podium milestone in the premier class. The Doctor is on 199, thanks to 89 victories, 61 second places and 49 thirds. In this particular classification, Lorenzo is second with 114 podiums and Dani Pedrosa with 112. Among the active riders, Marquez is 4th with 95 and Dovizioso 10th with 61.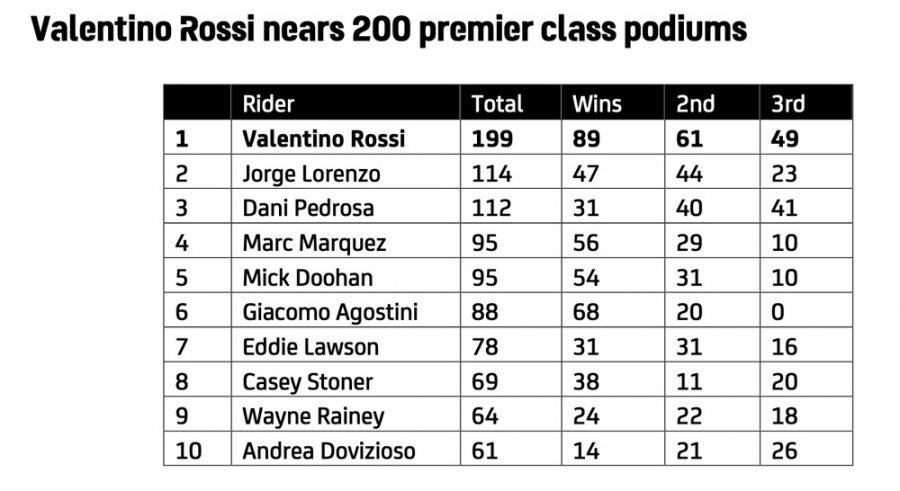 Thanks to the 3rd place in the Andalusian GP, ​​Valentino at the age of 41 and 161 days is the first rider more than 41 years old to step on the podium in the premier class since Jack Findlay did it in Austria in 1977 (he was 42 years and 85 days old). Rossi is the 7th oldest rider in history to be on the podium behind Karl Hoppe, Fergus Anderson, Ernst Hiller, Nello Pagani, Jack Findlay and Jack Ahearn.
The records are not over: between his first podium and his last one in the premier class 20 years and 87 days have passed. No one can approach this longevity record, the closest to him being Alex Barros with 14 years and 341 days between his first and last podium.
A curious fact: when Valentino got on the podium for the first time in 500cc (at Jerez in 2000) Fabio Quartararo was one year and 10 days old.
If Rossi manages to get on the podium again in Brno he will become the oldest to do it in two consecutive races since the time of Jack Ahearn, who in 1966 succeeded in the GPs of Belgium and East Germany at the age of 41 years and 282 days .