With sporting calendars undergoing overwhelming disruption these past few months, the challenge that governing bodies now face is trying to salvage what is left of any championships that were scheduled for 2020.
Due to the global nature of its usual schedule, Moto GP has been one of the sporting disciplines that has been hit the hardest, and just like its Formula 1 motorsport cousin, several dates have already gone by the wayside.
Which has left promoters Dorna scrabbling around for anything that can resemble a championship and with no fewer than seven races already canceled, a paucity of available racetracks are still left to visit. Scheduled rounds in Qatar, Germany, the Netherlands, Finland, Britain, Japan, and Australia have all been canceled for this year and the current situation is looking very much like Dorna want to have all races in Europe this season.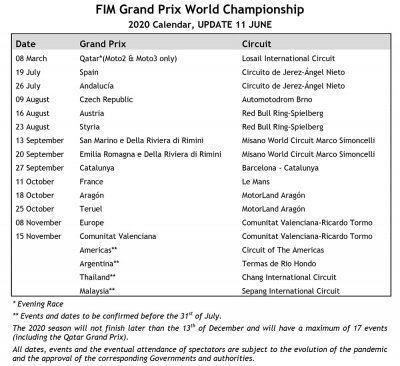 The first round of this year's Championship was set to get underway in March and with no racing in the past three months, it means any final schedule will be undertaken within a much tighter timeframe.
However, where there's a will, there's a way and although trying to mold a 2020 calendar has been a rather thankless task, Dorna is confident that the show will go on and it is a show that will consist of at least 12 races.
While the hope is that, if venues towards the end of the new calendar are subsequently made available, there could be as many as 15 races for the likes of Marc Marquez and Valentino Rossi to then contest.
A new look schedule is one that has had to utilize return trips to a number of tracks and with the status of Thailand and Malaysia's venues still up in the air, there is every possibility that this year's championship may not even leave Europe. This means that the European phase of the calendar (or simply the start if Thailand and Malaysia are not given the green light) will start on July 19th in Jerez, with the Spanish venue serving up the first of two races in as many weeks.
From there, a trip to Central Europe takes place in August as the historic race venue of Brno will once again play host up the Czech Republic Grand Prix and this will subsequently be followed by back to back races in Austria. Once the Austrian doubleheader is out of the way, it is a similar offering at both Misano and Aragon, as the Italian Grand Prix finally gets the date it is looking for and the latter takes place on its original race weekend.
The French Grand Prix is penciled in for 11th of October, the schedule will quickly move to the rescheduled race in Aragon, 18th e 25th of october.
From here, it could be either the final races of the year or at the very least the final race of the European leg, as November sees Valencia offer up a doubleheader on the 8th and 15th of the month respectively.
Which means, even though the original look of this year's championship has been completely reconfigured, there is a genuine belief that racing will soon get underway and rubber will be burnt in anger once again.
Of course, should a green flag finally be waved, you cannot look much further than defending champion Marc Marquez and with the Spaniard winning the last four editions of the Moto GP Championship, he will be gunning for a fifth straight success.