Yamaha chose its card carefully, then put it on the table and turned it over: the ace had the face of Maverick Viñales printed on it. It wasn't a banal move, because many observers saw a future for the Spaniard in Ducati. It's also a big problem for Ducati (HERE you can read what sporting director Paolo Ciabatti immediately had to say), which will be forced to revise its plans, but this renewal could be a headache for others too.
We're referring to Valentino Rossi, whose future may hold surprises. Clearly, the Doctor has no intention of leaving Yamaha, he still has at most a couple of seasons left to race and it would make no sense to embark on adventures whose risks would surely outweigh the advantages. For him, therefore, different scenarios open up.
OPTION 1 - Quartararo 'parked' in Petronas waiting for Valentino's seat
It would be too easy to think that at Iwata they will continue with him alongside Viñales, but it would mean 'counting chickens before they're hatched', which metaphorically speaking refers to Fabio Quartararo. The Frenchman was the revelation of 2019, he is very young and losing him would not be admissible. Yamaha has already shown that it cares about him by giving him a factory M1 in 2020, something that was not initially stipulated in his contract; it might only be a small pledge of commitment, but it is logical that now the Frenchman expects the ring of official livery on that bike.
At this point, unless Valentino decides to retire, several scenarios open up. Let's have a look at the possibilities, even though the number of permutations is limited.
The first option would be to keep Fabio in the Petronas team (a satellite team, but with budgets and organization that are no way inferior to the factory outfit) with 'full factory' treatment, as they say, and ask him to wait another year. In this way, Rossi would remain in his place in the official team and the definitive handover would be in 2022.
Quartararo has not yet turned 21, so time is on his side and he might accept such a solution. The advantages would be continuity with the team and with a bike that he has immediately been able to interpret at its best. Leaving the M1 for a competitor may require a new learning period and the road may prove to be more difficult than expected (Lorenzo docet).
OPTION 2 - Rossi in Petronas, but in a family team together with Marini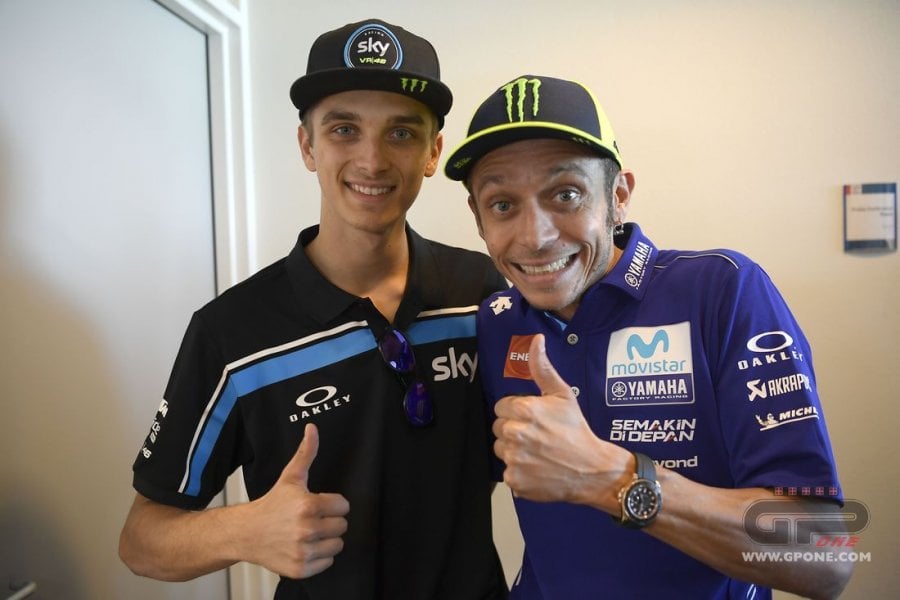 Otherwise, it could be the Doctor who accepts a 'downgrade', that is, moving lock, stock and barrel to the Petronas satellite team. The Malaysian team could not be happier with this acquisition, but it would be strange to see a legend like Valentino accept this plan B. At least – to quote Macchiavelli – unless the end justifies the means.
The end would be his brother Luca Marini. Rossi may want to repeat in Yamaha what the Marquez clan have already done in Honda: a family team, under the banner of Petronas. The project is certainly fascinating, because it would be as if Valentino were handing over the baton to the rider who is closest to him, his brother.
After many years of racing, the Doctor is constantly looking for new stimuli and being able to work alongside Luca would be one of them. To do so, he would have to sacrifice his  protégé Franco Morbidelli, but it might be worth it. The two brothers raced together in Abu Dhabi in November in the Gulf 12 Hours sportscar race and both enjoyed the experience, so being able to repeat it for a whole year, and on a motorcycle, is quite tempting.
This scenario could come about as early as 2021, or perhaps it could wait another year until 2022.
OPTION 3 – Retirement
All of these pipedreams (for the moment), however, are held together by the assumption that Valentino is still competitive, otherwise he may decide to abandon, thus clearing the way for Quartararo.
For this not to happen, the Doctor must simply be faster than what he was in 2019. It's not essential that he aims for the title but fighting for the podium when he can't get the win is. For this reason, the winter tests and the first rounds of the season are more important than usual. Yamaha will be observing the situation closely, but it can't afford to wait too long.
The season hasn't started yet, but the rider market is already becoming red-hot. Yamaha made the first move, now it's up to Valentino.