When there are big shots in the field like Marquez and Dovizioso, the record book is updated almost every Sunday. The MotoGP statistics have been updated after Andrea's victory at the Red Bull Ring and Marc's podium.
The Austrian victory allowed Dovi to beat Jorge Lorenzo in longevity. Now, in the ranking that counts the time that has passed from a first to a last victory, the Italian rider is 5th. His first victory was in 2004 in South Africa in the 125, his last was two weeks ago: 15 years and 115 days have passed between the two. However, the absolute record is held by Valentino Rossi, with 20 years and 311 days between his first victory (Brno 1996 in the 125) and his last (Assen 2017 in the MotoGP).

Remaining on the subject of longevity, Dovizioso is in 8th place (this time behind Lorenzo) in the ranking that only takes the premier class in consideration. In this case, between his first victory in MotoGP (at Donington in 2009) and his last, 10 years and 16 days have passed. The record holder, once again, is Rossi with 16 years and 351 days between his first and last victory.

Andrea also won his 98th podium in his career, tying with Jim Redman and reaching only one podium away from the Top Ten, that is, from Loris Capirossi.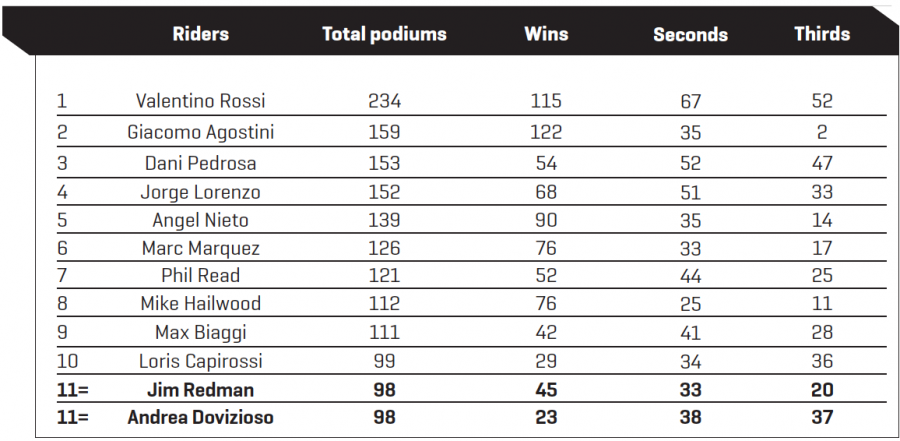 And, of course, Marquez couldn't remain high and dry. With a 2nd place at the Red Bull Ring, he's just one podium away from Giacomo Agostini, 88 against 87, all reached in the premier class.

The last interesting thing concerns Romano Fenati, also a long-running recordman, but this time in the rookie class. 7 years and 104 days have passed since the rider from Ascoli's first victory at Jerez in 2012 in Moto3, and his last.

Share