"Fuck FIM. I'm done with this sport!!! You will never see me on another motorcycle again in my life. You win FIM, you dogs. You're really low shit people who should have nothing to do with the sport. The FIM pushed me to lose my ride with Kawasaki here in Brazil. The FIM destroyed my life many times and put me into depression to the point I wish I was dead. I'm done playing these bullshit political games. Fuck you FIM.

Sorry to all my fans who have supported me since 1999, when I first went to the world championship. I love you all!!!

Bye."

This is how Anthony West vented his anger on his Facebook page, directed to the International Motorcycle Federation.
Last year, the Australian rider was found positive for doping following tests taken during the Misano round where he was busy with Kawasaki in Supersport.
West had appealed to the FIM's International Disciplinary Court that, however, rejected his request, since the second sample also tested positive for the use of irregular substances. Anthony was also a repeat offender because he had already been suspended for doping for 18 months in 2013.

In recent months, the Australian rider attacked the FIM, accusing them of playing with his life.

West recently moved to Brazil where he was racing in the national SBK championship and where he is currently first in the rankings.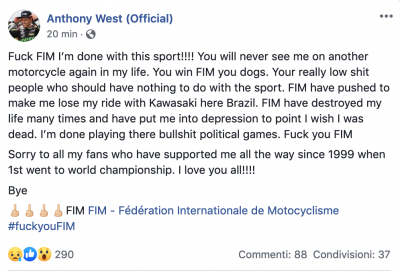 Share