Hang tight, Wayne, the first round of the season is just around the corner! The MotoAmerica president is chomping at the bit, because he can't wait for the championship year to begin.
The former 500 Gran Prix champion is a purebred racer. With his leathers hung up, the Californian participates vicariously in all the action on the track: "This is the time when you need to step up and make a statement. From the very first laps of the opening practice session until the last checkered flag drops on Sunday afternoon, you need to show your competitors that you and your team are the ones to beat. There's nothing quite like the first race of the season." How right you are, Mr. Rainey.
This year there will be plenty of riders trying to do exactly what Wayne said, starting with the defending champion, Cameron Beaubier. The Yamaha rider doesn't care about marketing and iconic number plates. The three-time American title-holder wants to hang on to that number 1 to seal his wins. After all, we would do the same.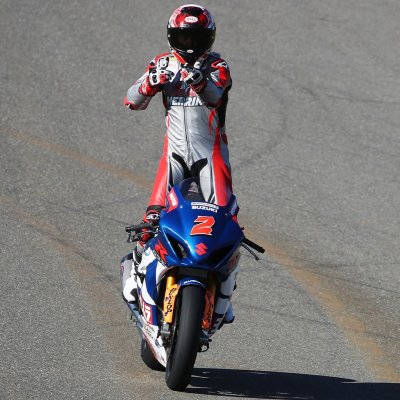 In fact, his rivals know that they'll have to reckon with the team Monster factory R1 if they want to win. Nobody is more aware of that than his teammate, Gerloff, who is hoping to beat Beaubier at least once.
Toni Elias  and the Yoshimura Suzuki are ready to attack. The memories of 2017 have still not faded, and the Spaniard will make a play for the American crown once again this year, well aware that new entry Josh Herrin will not be there to play a cameo role, because the number 2 boasts AMA championship titles. A quick look at this photo tells you everything you need to know about what the number 2 rider intends to do. At the very least, he'll be wanting to give his rival Cameron a run for the money.
The track in Braselton, Georgia, is a treacherous one. Difficult, technical and dangerous, Road Atlanta hosts the first of the 10 events on the MotoAmerica calendar, with a lot of riders anxious to show their stuff.
Keep an eye on Kyle Wyman, on the grid with the brand new Ducati Panigale V4, and watch out for Jake Gagne too, who just returned home with his sights set on prestigious results. Scholtz on his Yamaha and Lewis on his Suzuki are ready to take at least one win this year. And of course, you don't think Supersport champion JD Beach will be watching from trackside, do you? Anything but! He'll be striving to do in Superbike what he did so well with the 600 - stay out front. (Cameron Beaubier permitting, of course).
Share