Winning in Daytona is anything but simple, but Kyle Wyman did it astride his Pirelli-shod Yamaha R6: first place went to the New York native on the Florida track for its 87th edition. The long, high banked turns put participants to the test, specifically in terms of the left shoulder of the tires, stressed by the high speeds and high temperatures.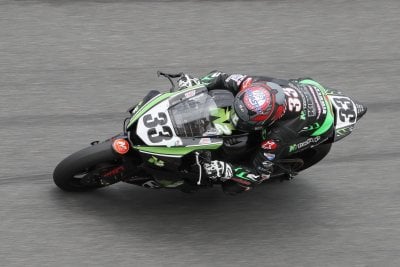 Yesterday, Kyle took full advantage of his Pirelli Diablo slicks, like the ones used in the World Superbike series. The team N2 Track Days/BobbleHeadMoto/KWR rider took his four-cylinder from Iwata to the limit from the first to the fifty-third lap, when the race was red-flagged due to an accident.
At the restart, there were just four quick laps to race. In the explosive finale, Wyman smoked the Suzuki GSX-R machines ridden by Sean Dylan Kelly and Bobby Fong, winning the endurance race and clinching the $25,000 prize money. 
60 riders finished the race, some highly renowned in the USA: multiple AMA champ Joshua Hayes finished fourth, SBK rider Geoff May sixth, Supersport rider Jason Di Salvo eighth. Danny Eslick, previous winner at Daytona, finished much farther back in fifty-third place.
In what has been defined as a "classic", Kyle Wyman - busy this year with his Ducati V4 R in MotoAmerica - adds his name to a prestigious list. The Daytona Hall Of Fame di Daytona includes, among others, wins by Giacomo Agostini, Kenny Roberts, Wayne Rainey, Kevin Schwantz, Freddie Spencer, Eddie Lawson and Scott Russell, all in the Superbike category.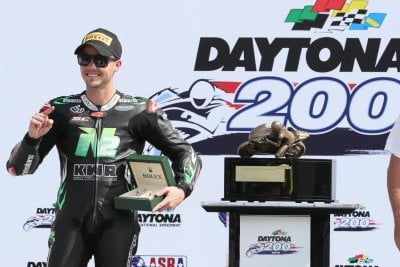 Kyle won with the 600, introduced a few years ago. The many tire explosions on the banked turns prompted the AMA to reduce the engine capacity of the participating bikes, with a layout change on the Daytona track which includes a mixed infield section. Wyman and his Pirelli-shod R6 won with no problems or drops in performance: "To win the Daytona 200 like this is just unreal - the twenty-nine year-old American said - The Pirelli Diablo slicks were extremely predictable for me throughout the weekend and they gave me the confidence I needed. With the feeling I had, I knew that I would be able to lap consistently with low times for the whole race."
This gives Wyman a win in a race that has been held since way back in 1937, breaking Dunlop's domination of the last 30 years. Pirelli can now boast another international success, which arrived from the highly respected Daytona International Speedway, the 2-mile oval that also hosts no-holds-barred Nascar races. 
Share