Valentino Rossi has experienced many team presentations, and, without a doubt, he has always been the star in every single event. The one in Jakarta today was the last that the Doctor experienced before reaching the 40-year mark. A finish line he'll be crossing February 16th. An age that for Valentino does not seem to represent a limit. Maybe it forces him to work in a different  manner, but without being an insurmountable problem in the modern MotoGP.
"Unfortunately, I'll be 40 soon," said Rossi, "I'm a bit old, but it's a challenge for me to remain competitive at this age. I am the first rider to do it in the MotoGP. Maybe, in the future, other riders will also continue racing. The important thing is to have the right motivation, but, above all, to feel that you're fast." 
Valentino explained his point of view in detail.
"The problem is especially from a physical point-of-view. You have to train every day, on your bike and in the gym. I don't think things change between 36 and 40, but they certainly do change between 25 and 40. You have to work hard, but I think it's possible to keep up the pace. There'll be other riders like me in the future who will race up until they're 40. At this age, you still have everything you need to ride in the MotoGP at your limit. Luckily, the physical part in our sport is important, but it's not essential as it is for someone who runs 100 meters or a cyclist."
The rider from Tavullia tried to better describe the difference between being a rider in the MotoGP at 25 and being one at 40.
"When you're 25, everything is easy. You can worry about less. You obviously have to train, but you have shorter recovery times. You can have more fun. Even if you don't get much sleep, you're still in shape the next day. You can eat more. Let's say that when you get older, you have to be more careful about all these things. We need strength, breath, you have to train well, you have to suffer more. Maybe, when you get older, you have to work a bit harder at home. Especially this. But I have two more years with my contract, and the challenge is always to stay competitive and fight to win."
For many in his condition, as a very successful champion, finding the right motivation could be difficult. Instead, the reasons for wanting to go forward are clear to Valentino.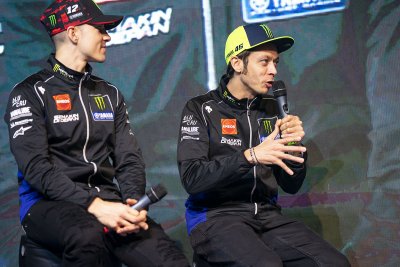 "My biggest motivation is that of riding a bike because I like it. But, above all, it's the good feeling you have after a good race, maybe after having won or even been on the podium. I don't think much about the past but about the present. In my opinion, it's very important to be competitive. Entering the race knowing that you can have fun, that you can get on the podium. Present results are much more important than past results. That's a good motivation. If I'm competitive, if I feel like I'm leaving home knowing I can be fast, everything becomes easier to do. You work hard for that."
The MotoGP has changed a lot over the years. The level has risen on many levels.
"Certainly, in recent years, the situation has changed, and the level in all areas has grown. Riders now are real athletes. They train more. All MotoGP riders are focused on improving every single detail, in order to go faster, but even the manufacturers work harder. The bikes are different, and they work a lot on the electronics that, in this historical phase of the MotoGP, is very important. What makes the difference is the complete package consisting of rider, motorcycle, and team. You have to work a lot more today to compete than you did ten years ago."
Changes that, from a certain aspect, Yamaha has decided to implement with some delay, as compared to the competition.
"In 2018, we suffered too much. The whole team wants to be stronger in view of the season. We have the potential to try to fight for the victory. Certainly, the engineers in Japan have worked hard during the winter. We had to try to improve the bike in some areas to be more competitive. This is very important for me. In the last two years, others have changed the work method a great deal, especially the Ducati, which made many changes, bringing many more people to the track and organizing the team more on the Formula 1 model. We have to follow that path, and it seems as if something has changed in Yamaha. We have new engineers with us, both Japanese and Italian, who come from Lesmo. Something has changed in the team, as well. I think we can be stronger, but let's wait before speaking. I suffered, especially in the second half of last season, so it won't be easy to return to the top in a very short time. But it will be very important to understand if we are on the right track."
The project leader has also changed, and there will be important innovations to be tried out in the tests.
"Several things changed in the team. I know the new Project Leader very well, and I think he's good. We talked a lot with Tsuji and with all the Japanese engineers at the end of last season. The things we asked for were quite clear, and I know that in Japan they worked hard during the winter, and there will be several new things to try here in Sepang. But we have to wait to get on the track. I don't expect that I will immediately be super competitive in this test, but I hope to see some improvements to understand if we are working in the right direction. This will be important."
Rossi also talked about the upcoming Sepang test, with lots of news things try out on his M1.
"There are a few things to try out. But, as I said before, the most important thing now in the MotoGP is tire management. You work on all aspects of the bike to make them work less and to better preserve them for the second part of the race. One thing we were somewhat lacking in 2018."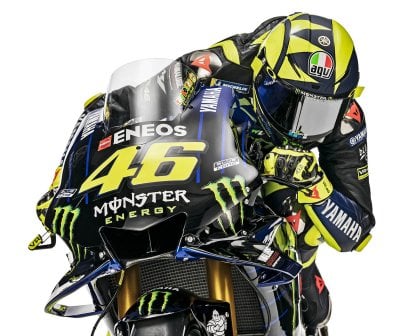 Thinking about the opponents of the season, it's normal to be curious about what Lorenzo can do while riding his Honda, but Valentino does not underestimate Petrucci's potential on the Ducati.
"There are many expectations to find out what Jorge can do on his Honda. They have a very strong team, with Jorge and Marc, who are the strongest, on paper. Even Ducati will be very strong. Petrucci will be interesting on the official bike. They're both Italians, along with Dovi. Danilo has already proven that he can be very fast with the official bike during the tests. I think there's another driver who will be very difficult to beat."
This season, Yamaha also has Franco Morbidelli, who will have a motorcycle with Factory specifications. An ally, but also a great rival for Valentino.
"I think it will be possible to share information with Morbidelli. We can help each other. Maybe we could compare the two distributions, and it will be interesting for me, too because Franco is a very sensitive driver, and, along with Forcada, they'll do a good job. I think we could work together."
Rossi also thinks that Morbidelli may be the favorite in the entire competition among the drivers of the VR46 Academy, with Bagnaia ready to make his debut in the MotoGP.
"I think Franco can be stronger this year than Pecco because he already has a season's experience in the MotoGP. He'll have a great package with a Yamaha Factory and Forcada as coach, so he'll be very difficult to beat. But Pecco is also very strong, very talented. Maybe it will take him some time to adapt to the MotoGP, but I expect he'll be strong in the second part of the season, so I think, in the end, I'll eventually end up competing with both Franco and Pecco."
These past few days there has also been talk of the possibility of seeing Luca Marini make his debut in the MotoGP before Valentino's retirement. A very interesting hypothesis, also for the Doctor.
"I hope to race with Luca. I hope he'll be stronger this year in Moto2 and race in the MotoGP before I retire. It would be nice to race against each other, something I never expected, and something I believe no one has ever expected to see."
As per tradition, Rossi will have a new helmet but, instead, there won't be many changes for the season as compared to 2018.
"My helmet for this season will remain similar to last year's. Blue and yellow. I'll have a new helmet for the tests, which I will use for all the tests this season. Something new, very artistic. You'll see. It's really nice."
Valentino ended the press meeting speaking of his future on four wheels.
"Regarding my participation in the Paris Dakar... when I stop with the MotoGP, I'll try to continue with cars, which are my passion, and the Dakar is a very interesting race. So, why not? It's very hard, so you have to prepare very well if you want to participate in it. But I'm curious to experience it, so it could happen."
INTERVIEW BY PAOLO SCALERA
Share