Suzuki has decided to show its new GSX-RR, which will race in the 2019 MotoGP, on the web. A virtual presentation where its two riders, Alex Rins and Joan Mir, unveiled and presented the bike.
At Hamamatsu, they continued along the lines of tradition for the new year with no major changes, not even from an aesthetic viewpoint. "I hope the bike is faster and performs better when braking," stated Rins who, in the final last year, proved he can be right up there with the best in the category.
He's the one who's going to be the top player for Suzuki, and Alex doesn't want to disappoint their trust. "I want to continue to gain experience and improve my results, so I'd like to try and win a race," he said.
As a rookie, Mir has much less pressure on him: "the important thing for me will be to learn and to improve my performance with each race."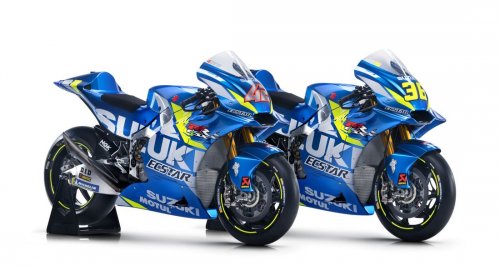 After all, Brivio's team since Vinales has already shown that it knows how to prepare and make young riders grow, and the GSX-RR is a bike that is approaching its maturity.
The team's technical manager, Ken Kawauchi, goes into more detail on the new characteristics of the GSX-RR: "We've developed a new engine and a new chassis, and we have also improved its electronics and aerodynamics.  We did this by following Suzuki's philosophy, that is, not destroying to rebuild from scratch but continuing to build on the foundation reached step-by-step. Driveability for us is essential. Starting from this aspect, we have tried to improve in every area without compromising overall balance."
The team's manager, Davide Brivio, is confident: "We are about to start an interesting season. Last year, we surprised everyone with our progress and with a quick return to the podium. Having Alex Rins with us again is very important, in order to try to improve the team's performance. He has that youthful mental candor but also the consistency and wisdom he acquired the last two seasons. He's already proven his talent, and now we'll work hard to take the next step with him."
"Also, we're starting a new project with Joan Mir, who will make his debut in the premier class," continues Brivio. "This is the third time for us with a rookie on the team, and we'll continue to work hard to continue the positive trend we achieved with the other young drivers.  We strongly believe that he has great talent, and it's up to the team to allow him to express his full potential on the GSX-RR."
Now it's all in the hands of Rins and Mir, who have only one doubt: "Should we give our bike a name? We haven't thought of one, yet. But we'll come up with something," they promised.
Meanwhile, starting Wednesday, the two will be engaged in the first tests of the year at Sepang to prove that the GSX-RR is not only beautiful but also fast.
Share