Marc Márquez is right when he says, "The most important thing is that neither of us was hurt." The contact at almost 300 km/h between the Spaniard and Johann Zarco, who hit him from behind, could have had much worse consequences. Instead, the Frenchman was on his feet without a scratch after taking a frightening tumble and Marc did not even fall.
"I hadn't understood what had happened straight away, I just felt a big hit - Márquez recounts - The saddle broke and moved around a lot, so it was dangerous to continue that way. I returned to pit lane very angry, but when I saw the replay, I realised what had happened and I must admit that we were both very lucky."
Marc also went to speak with Zarco and the accident was filed away as a simple racing accident.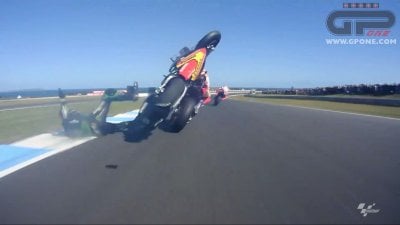 "Absolutely - the Honda riding champion confirmed - You arrive very fast at that punto, at more than 300 km/h, and the slipstream makes a big difference. I was behind Miller and I was just a bit off on the braking. Johann actually had slipstream from two bikes." 
A mistake that can happen.
"Unfortunately, the nice tracks are also the fastest ones and therefore more dangerous - Marc reflected - Here at Phillip Island, even a small mistake can have huge consequences. What can be done to improve safety on this track? Remove the grass outside the second and last two turns. All it does is cause crashes and destroy the bike. With asphalt, there would be more room to recover from small mistakes."
This year, Marc was once again victim of the 'Phillip Island curse' by which when you win the Championship in Motegi, you don't finish the race in Australia.
"It isn't a big problem. Where do I sign to win the title again in Motegi next year and then take home a zero from here? - he joked - I had a good pace today. I could have battled for the win. I had lost a few positions on purpose, because I didn't want to stay out front and give anyone a tow."
Fate made it so that his strategy would be in vain, as well as Zarco's. The Frenchman was going fast and did not expect to find himself so close to Márquez and his Honda on the braking section of the first turn.
"I was in two slipstreams and when I realised that I was going too fast, I had no room to manoeuvre - Johann explained - I spoke about it with Marc too. These things happen in the race, but I am sorry about what happened."
Share