The sun is shining in Ireland, temperatures higher than they have ever been believe it or not. Eugene Laverty is making the most of the long summer break, taking time out, enjoying some days at home while continuing the training that will take him towards the Portimao test, taking place on 23 August.
The Milwaukee team rider is getting back in shape: "I'm spending some weeks in Ireland, training every day. Physically I'm getting back to normal, I still have some small problems but that's understandable after such a serious injury. My preparation continues as usual, I have to carry out with physio on the right side to prevent any complications, but I've got it all under control".
The accident Eugene suffered at Buriram may have broken him physically, but not mentally, #50 having grown since then, together with his bike: "the work we did over the winter break was very good - the RSV4 has improved a lot, that's why we were able to reach the podium in race 2 at Phillip Island. Then I hurt myself in Thailand and we were forced to start over; when I got back on the bike my body wasn't yet ready for the effort required to ride at the limit, and Pirelli had introduced new tyres too. This is why we totally changed the set-up of the bike, which took three rounds. Right after that, we scored a podium at Laguna Seca and then did the same again at Misano. I like the bike; the Aprilia engine is very good, even better than last year. The technical regulation has taken some revs away but in the end we have very smooth and regular delivery, power arrives in a linear way to the back wheel. Acceleration is great too, while electronic management is the RSV4's real strength. This has always been at a great level and is our strongest characteristic."
How about your rivals' bikes?
"If we include Johnny Rea and his ZX10-RR, I think that the two Yamaha R1s are the most competitive bikes on the grid right now. Kawasaki does a fantastic job nut the R1 has greater potential I think. The Ninja has the most complete package, but the Yamaha is the most competitive in the championship".
You don't yet have a ride for next season and team Milwaukee has not renewed with Aprilia.
"I need to know soon what bike team Milwaukee will have in order to decide. We'll see if they go from Aprilia to BMW. Then I'll decide what to do. It would be a pity to go from the RSV4 to the S1000RR, we've spent a year and a half working to reach this level of competitiveness with the Aprilia".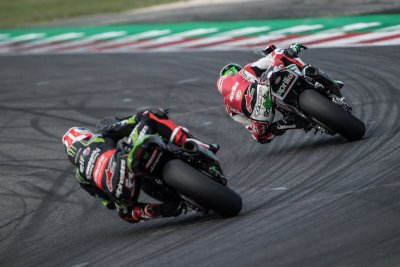 Do you have valid options?
"I have an offer from Honda on the table, as well as two other options that I'm considering; my choice will depend on the commit and support that the manufacturer can give the team. They started strong, then Camier got injured, now they're getting back to being competitive and want to win. Their last victory was with Nicky Hayden at Sepang in 2016 and I know they want to get back there. I'm also considering the option to race with a second Yamaha team, as I've said, the R1 is the best bike right now, an eventual second team would be interesting, but also risky - a team that makes its debut in Superbike will inevitably be facing many new things, with the problems that entails to resolve".
And the third option?
"I've spoken with the Ducati team, I think I could beat Rea with the new factory Panigale V4. Now we need to see what Davies and Melandri will do, if they stay where they are, it will be tough for me to find a place on the team. I'm on the phone a lot, trying to work it out and find myself a good solution, that is a place on the factory team. I know I could be strong with the new Panigale, but it's hard to convince Ducati personnel".
So what decision will you make?
"The path to Kawasaki was never an option, so right now my preference is for Ducati. The important thing is to stay with a team that can lead me to success. There are many strong, fast riders in Superbike, but a lack of teams at that same level. Aprilia might withdraw and Suzuki doesn't take part, it's not easy to find a suitable place".
Laverty hasn't yet decided what he'll do be doing in 2019, but he does rule out one unlikely route: " I won't go back to BSB. I've proved that I'm competitive in the world championship, reaching the podium twice since my accident, I'm sure I'll stay here, I want to finish the job and reach the top. The strong results I achieved before the summer have provoked interest and I'm sure that I'll be in a factory team in 2019".