They hadn't scored pole at Suzuki for 23 years. It took a certain Johnny Rea to put an end to the Kawasaki fast. In Saturday's qualifying, the three-time champion has confirmed his skills around the Japanese track, stopping the clock on 2'05"403. Johnny, along with his team-mate Haslam, were the only riders able to duck under the 2'06" mark, during a session that was slightly modified with respect to previous Top 10 Trials, due to the threat of typhoon Jongdari.
The Team Green riders proved their competitiveness, beating the official HRC Honda by seven tenths (+0.724). The fastest on board the Fireblade was Japanese Takaaki Nakagami, just 0.043 ahead of the Yamaha in third place. A bittersweet session for the latter that, after three consecutive poles, has seen its run interrupted by the green bike. It was no easy Saturday for the R1 rides. Nakasuga crashed, meaning it was down to Lowes and van der Mark to set a good time. There was nothing to be done against the Kawasaki pair though.
The HARC-PRO Honda scores fourth place (+0.774), followed by the Suzuki of Yoshimura, in action with Sylvain Guintoli, test rider Tsuda and Bradley Ray, the latter taking part in the race for the first time. As for the teams entered in the World Endurance series, the best of the batch proved to be the Yamaha Yart team, in seventh place ahead of the Moriwaki Honda. Current championship leader Honda FCC TSR will line up in twelfth position with Niccolò Canepa's Yamaha two positions further back.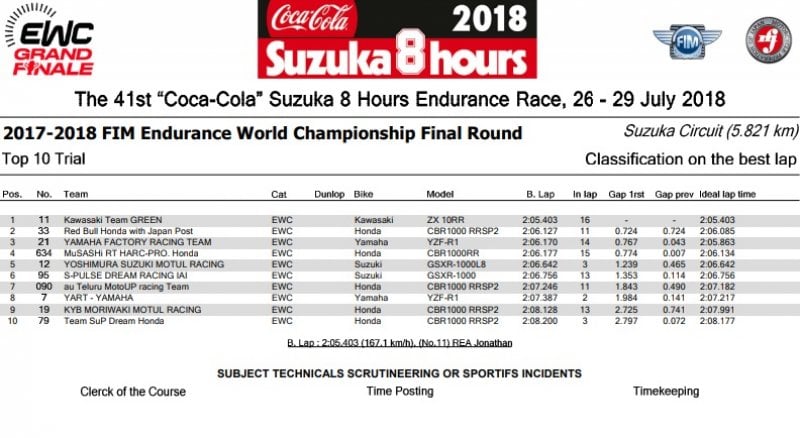 Share