Loris Baz returns to the production-derived series with a very respectable CV: Superstock 600 champion in 2008, winner of the prestigious Bol D'or, he's reached the highest step of the rostrum in Superbike on two occasions, in addition to fourteen additional podium finishes.
As he made his MotoGP debut, the paddock was a little skeptical: "I found more than one critic when I arrived in MotoGP,  all ready to bet against me. For some, I was too tall and heavy, unable to ride a GP bike. They thought I'd only complete a few races and with disappointing results but instead, in my first year, I was able to finish fourth at Misano with the Yamaha Forward and, in subsequent seasons, I proved to be strong with the Avintia Ducati too. Considering my body size and the private bikes I was riding, I'm proud of my experience in the Top Class".
What is your view of MotoGP?
"The level of competition is very high, everyone from first to last is strong in the reigning class. The technical side counts for a lot, as does the compete package - without a factory bike and a competent team , it's impossible to stand out in MotoGP. The competition? The surnames speak for themselves - Rossi, Dovizioso, Lorenzo, Vinales… and then there's Marc Marquez, someone who could win the title on any bike, as long as it's factory".
What do you think about fellow countryman Zarco?
"Johann has had a really great season, he's been very fast. He's one of the fastest guys we've seen on a satellite bike, reminding me of Ben Spies in his first year. The Tech3 team, along with that of Cecchinello, is the best private team, the Yamaha M1 is good and he's got on well with his crew chief. No-one expected him to be so strong and nothing comes by chance or by luck, he's deserved his results. This year we'll see if Johann can be even more competitive".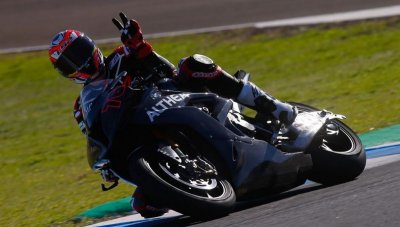 Why did you not stay in GP for one more year?
"I wanted to stay, but the Avintia team had other priorities. To extend our agreement, we would have needed a consistent budget, and I didn't have it, having never paid to race. Hector Barbera also left the team, to go back to Moto2, for the same reasons".
The SBK paddock welcomes Baz back, knowing that he will earn even more respect than he has in the past: "getting back on a Superbike was strange, particularly those first few laps, but the S1000RR is excellent. The BMW chassis is valid, the area to work on is the electronics. I'm with team Althea, a winning team that I know well, we have everything we need to achieve great results. I feel like a better rider - in MotoGP I worked with some real legends and alongside them I have learned to evolve across all areas, from riding to finding to ideal set-up. My experience in MotoGP will be useful and I'll be able to help the Althea BMW Superbike team".
In the meantime, what are your thoughts about the production-derived championship?
"I can say that Rea was already strong before he moved to Kawasaki, he won many races with Honda too and was unbeatable at times. He's found the complete package with the Provec team - the ZX10RR is a winning bike, the team is top-level and that combination, like in other sports, has made the difference".
What's your 2018 goal?
"I want to improve the bike, making the most of my GP experience. We are not a factory team but we'll work hard to do well, I want to fight for the podium and try to make life difficult for Rea and Davies as often as possible, battling as hard as I can".
Battling as hard as he can.... in this way, Baz reminds us of his idol: "my parents were part of the racing world. They named me Loris after Capirossi. Because of this, I began to admire Capirex, before becoming a real fan and choosing to use 65 as my race number too. What characteristics do we share? Physically-speaking, very little, he's short and I'm tall. Our riding is different but I hope people compare me to Capirossi, he's a great guy and has been able to transmit his racing passion to so many fans".