It's not easy to sum up Honda's first day of testing at Sepang. Marquez didn't particularly shine, finishing ninth behind Valentino and with a very similar lap time. But while the Italian has clear ideas on the development of his bike, the Spaniard still has some doubts.
HRC has brought a new engine for these tests, one that has given the world champion good sensations but that hasn't convinced him 100%.
"Overall, I can say we've had a good day, because we've worked a great deal - he explains - I only made a couple of exits with the old engine, before focusing on the new one because we had many things to do, both in terms of set-up and electronics. I also made some laps in the wet".
But there wasn't enough time.
"When you work with only one bike, everything takes longer and is more difficult. So I've decided that tomorrow I'll have two bikes with the new engine", he confirms.
How is it different?
"The noise it makes, but that's not all - he smiles - It making riding a little easier but for the moment the times are more or less in line with those of the old engine. We need to go into more detail, because we used the electronics set-up of the old one, but we need to adapt that. It has smoother delivery at low speed but doesn't create any problem on corner exit and perhaps top speed is even a little better. But, I repeat, first we need to adapt the electronics".
Throughout all of last season, Marquez complained about the acceleration phase.
"That problem's not yet solved, but we need more time. We know what we need, but it's not simple to achieve it - he admits - Anyway we won't need to decide on the engine yet, I have time until Qatar, but the data we collate here at Sepang will be important because it's a track at which we struggled last season with respect to  our competition, but it's gone well considering this is the first time I'm testing the engine".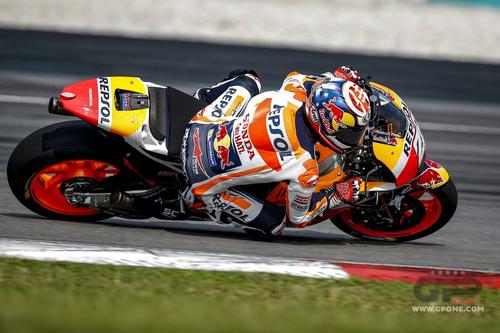 PROBLEMS FOR PEDROSA - There were few positives in Pedrosa's camp however and his 13th time is proof of that. Dani too has the new engine to test but things didn't go to plan.
"We had a problem with one of my bikes, we tried to solve it but we unable to do so - he reveals - We need to find a solution as soon as possible because it's causing us to lose a lot of time".
For this reason, he reserves judgment re the new engine.
"The two engines alter the riding of the bike of course but today, as a result of this problem,  I was unable to fully understand the bike's potential. I need more laps, this is only day one and from tomorrow we'll go into more detail. For now, we don't even know if the problem is related to the electronics or something else".
Hoping that the night brings some clarity, Dani also talks about Gibernau, alongside him in the garage.
"Sete has been a friend for a long time and came to these tests last year too- he comments - He is very experienced and can help me. How? He can interpret what happens on track and facilitate communication with the technicians. I don't know if he'll be able to come to every race, but I hope so".
His final words concern former team-mate Stoner.
"He's very fast, as always, we know him by now".
Share