There are still 4 races to go, which means 100 points still to be assigned. Mathematically-speaking, 5 riders are still in with a shot at the title, though realistically we're talking about three. Marquez, Dovizioso and Vinales in that order, with Marc leading, 16 points ahead of Andrea and 28 ahead of Maverick.
A narrow margin if we consider that we're already more than three quarters of the way through the races and, in this situation, every point counts. In truth, the riders - and the Ducati men in particular - have actually been answering questions about possible strategies for a while already, and by strategy we mean team orders.
Dovi has tried to shut the question down, "I see myself as one of the most sportsmanlike, I would be the last person to ask something like that", but without much success. MotoGP is not Formula 1, not only in terms of the number of wheels, and team orders are not the norm but 'ubi maior minor cessat' as they once said in Latin.
On paper, Dovizioso and Vinales appears to have the better team-mates, or the worse team-mates depending on how you see it. Lorenzo and Rossi are among the quickest on the grid and having them at your service could be an important advantage, if not a decisive one.
Having said that, both these riders want to win, albeit it for different reasons. Jorge has seen just how hard it is to adapt to the Desmosedici, but the problems seem to be behind him, Aragon a case in point. After a season of applauding his team-mate from under the podium, the Majorcan wants to be back on the top step of the podium at least once.
"I don't mind helping Andrea but my goal is to win a race" the Majorcan has repeated on several occasions. In the 14 races run so far, he's only finished in front of his team-mate on 2 occasions.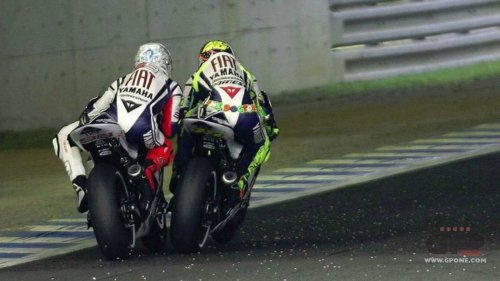 It's a different matter for Valentino, still recovering from injury. For the Doctor, the first goal is to regain his competitiveness and prove to himself and others that he's back. In a certain sense, his Aragon performance did the trick, but it's not enough for Rossi.
With his title chances as good as wiped out, the aim now is to finish the season on a high ahead of next year. There is also a precedent here - back in 2010, when he had no qualms about reaching the podium at Motegi, despite it being his team-mate who was fighting for the title.
Rossi and Lorenzo are two champions and it's in their nature to win. You can't get a dog and then complain when it barks. In this case though, their growls could change the face of the championship. Two more unknowns that shouldn't be underestimated during this final phase of the championship.