For 2018, the Dutch Grand Prix could take place a few weeks later than usual. As seen on the official MotoGP Twitter profile, the weekend of 29 June-1 July has been proposed to the FIM for the Assen race.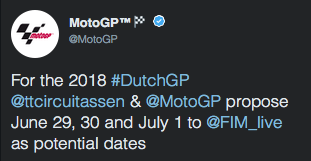 A small change for the Dutch GP that has traditionally been held in June. Furthermore, from 1949 to 2015, the race was always held on a Saturday, until this tradition too was done away with for TV purposes.
For the nostalgic among you, here is an image of Assen in the good old days.