by Silvano Di Giovanni

1'34"617 and 1'34"880. These are the two fastest lap times at Assen 2017, but the first belongs to MotoGP, Scott Redding with the Ducati, and the second to Superbike, Jonathan Rea with the Kawasaki. Well, behind these two numbers, and many others that we note when comparing the two categories, there is something that tells us that the Assen race, beyond the actual race result, requires closer analysis.
It is, above all, a sign that in MotoGP it only takes something small, a missed practice for example, for the situation to be turned on its head, with the impression that it is difficult for everyone to get to the heart of the matter. The final result at Assen, we feel, only goes so far in explaining the current situation in the reigning class,  particularly in terms of the effective competitiveness of the bikes.
The best lap time between the two categories has never been so close (aside from rare occasions twenty years ago). The SBKs performance in April are too close in this case, almost overlapping, with those of MotoGP. Let's not forget that, with the Superbikes, we're talking about production-derived bikes, which weigh at least 5 kg more, with brakes in steel not carbon, less advanced electronics and less extreme tyres.

We could say that the MotoGP practices were conditioned by the rain. It's true, but if we look at Friday's dry times, when riders are not looking to make flying laps, we see that Vinales already set an 1'33"130 in FP2, a prelude to some low 1'32"s by the end of qualifying. normally, in fact, between Friday and Saturday, times come down by almost a second. Now, the race pace on a dry track went up to 1'35", very high, too high compared to Friday's practices. A pace that is only a fraction faster than that of the Superbikes, which suggests extreme difficulty in setting up the bikes with the Michelins, where any small thing can result in disaster. It's clear that something is not working as it should. In terms of overall performance, it seems that there is confusion, with the situation changing race after race.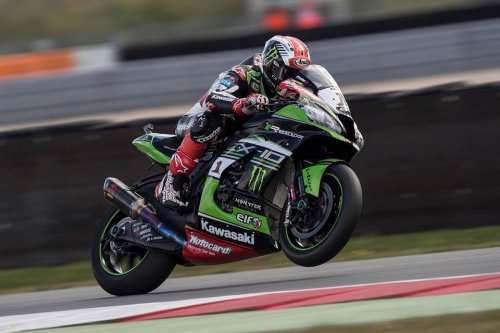 For a correct comparison (Race 1 for the SBK) let's start with the weather. In SBK 10° air temperature, asphalt at 18° and 54% humidity. In MotoGP 18°, 25° and 76%, so the comparison is consistent.

The total race time for the first 17 laps in both categories (so before the rain started to fall in GP) was 27'00"8 for Rossi, with a 12 second advantage over Rea (27'12"4). Rea would have been twelfth in the race at this point, in fact, ahead of Iannone.
Other data. The first lap sees the SBKs travelling faster than the MotoGPs: Davies completed it in a fantastic 1'39"890 to the 1'40"189 of Zarco. The first 5 flying laps: Rea 7'56"76, Zarco 7'54"44. Just over 2 seconds difference. Dovizioso was at 7'56"12. So we would have seen Rea right up behind Dovizioso and Davies just two tenths behind.
But the most disconcerting thing are the split times.
- 1st sector. Aside from Dovizioso in 31"093, Davies is quicker than everyone with a 31"137 and Rea with 31"213 is 1 tenth quicker than Petrucci.
- 2nd sector. Dovizioso 14"009 and Zarco 14"036, but Sykes sets an excellent 14"056, faster than Rossi. Remember that sector 2 is that where we see the bikes at maximum speed, where Dovi's Ducati travels at 312.1 kmh, Zarco at 307.4 and Rossi at 306,2. Sykes manages only 292.8 and Davies just 286.9. So we're talking about a difference of a good 15-20 kmh, more than just loose change. This data requires further reflection.
- 3rd sector, and here's the surprise, Davies with the Panigale sets an impressive 27"480, he's the fastest across the two categories (Zarco 27.503). Rea is at 27"587, almost the same as Rossi 27"529.
- Finally, the 4th sector, where only Petrucci (21"637) and Marquez (21"694) beat the SBK of Sykes (21.822).
So we ask ourselves: the MotoGP bikes are lighter, more powerful, brake better, accelerate better, are faster, have been mid-corner speed, have actual race bike geometry, high performance tyres and the riders too, at least those on the first/second row, are stronger too. And so? How is it possible that in certain sections there were slower than the SBKs? Did they simply not push as hard? If that's the case, we should all be asking where the category is headed...

We add a final note with Vittoriano Guareschi's opinion. Talking to Motosprint, the former team manager sees that something doesn't add up. "The production-derived bikes have grown a lot, but if we look at the current MotoGP times we see they're going slow. It's almost as if the manufacturers are unable to do everything within their power. And the riders don't seem to be riding with the same level of performance. Up until a while ago, only a few could fully exploit a MotoGP. That made the difference. So it's difficult to judge the bikes and riders right now".