The test day at Barcelona (the second for the factory Aprilia and Ducati teams, the first and only day for Honda) concluded with Marquez at the head of the pack. While the Majorcan set the best time in the morning, the only one to duck under 1'44", Marc's response came in the final stages.
The Honda rider was able to get down as far as 1'43"803, a little under two tenths quicker than Jorge's time. To be noted that it was day one of Marquez (and Pedrosa), while the others riders had already tested on Tuesday.
We also remind you that the riders rode on a new layout of the track, similar to that used in Formula 1, with a tighter turn 10 and a chicane breaking up turn 12.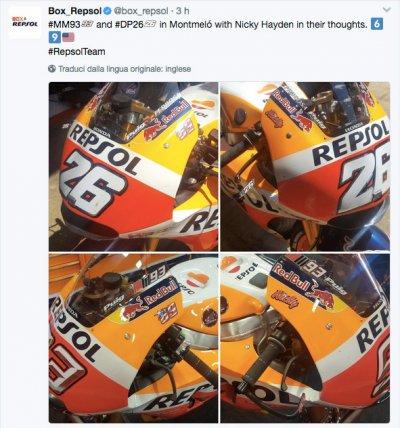 In the combined standings, Bautista closed with a 1'44"258 set in the morning, very close to the times of both Crutchlow and Pedrosa. The two factory Honda riders rode with a number 69 and Hayden's name on the front fairing in memory of their friend.
Continuing down the standings... Dovizioso did a little worse than the morning, setting a 1'45"268, about half a second faster than Rabat.
Behind the Marc VDS rider, in the afternoon, were Baz and Aleix Espargarò. Aprilia brought new seamless gearing to Barcelona, an evolution of the current system. The Spaniard, as well as testing this, also tried the new fairing with wings and focused on performance with fresh tyres, a weak point of the RS-GP.
Back to the afternoon's times and Barbera closed ahead of Lowes, Pirro and Abraham.
Stoner was not on track on Wednesday, having only ridden on Monday, he was expected to ride today but there was a change of plan, with Pirro completing the work programme alone.
Here are the morning's and afternoon's times.