Lorenzo Savadori carried out his first test with the Milwaukee Aprilia team in November, to gain confidence with his new team, headed up by Shaun Muir, as he moves to the Noale bike after a first year in SBK with the BMW.
New surroundings for Lorenzo who, after a great 2016 with Iodaracing, has found a different but welcoming atmosphere: "during the Jerez tests, I got to know my new team and must say that I get on with everyone. They're British and speak English of course and so the language is the first thing I have to improve if I want to do well".
In terms of the bike, Lorenzo hasn't yet tested the new technical components: "in Spain I rode the bike used this year, with no real new details. The new thing for me was the team's work method, very Anglo-Saxon but very positive. The weather conditions at Jerez were unstable but I had great feeling riding my RSV4".
Riding alongside Savadori is Eugene Laverty who, after two years in MotoGP with Honda and Ducati, returns to SBK with a bike that he rode in 2013, fighting Tom Sykes for the title. The thirty year old from Toome is a strong, expert rider and Lorenzo has already realised the value of this: "I got on very well with Laverty. I think he's a great rider and a great person, a gentleman; Eugene has raced in the world championship for any years, in 250 and MotoGP, he's won thirteen races in SBK, just missing out on the title in 2013.  Eugene has vast experience, and I'm pleased to be his team-mate. He is a champion, and I will be able to learn a lot from him".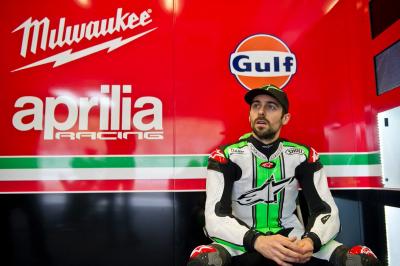 It's true, Lorenzo will learn, but that's not all: "my wish for the new year? To improve further, we'll put our heads down and work as I've always done, to achieve the result that really counts".
And what result is that?
"We all know what it is (he laughs)... to be up front, as often as possible!"