"I'm not interested in racing just to make up the numbers, so if I'm competitive I'll race, otherwise I won't". Andrea Iannone has clear ideas. This morning the circuit doctors have given him the OK to compete in the race, but the Italian doesn't know what to expect on the bike and will only whether it's worth racing once he has a clearer idea. The pain he's suffering as a result of the vertebra he fractured at Misano has not diminished
"It's difficult for me to understand how the weekend will go, if everything will be as normal or not - he explains -  I really want to race, but I also want to be competitive. It's essential that I'm able to ride well".
How are you feeling now?
"Everyday life is no problem but I only have to bend to pick up a pack of water to experience intense pain. After Misano, I took painkillers for 6 days, I stopped 3 days ago".
Have you been on a bike?
"No, the MotoGP is too different from other bikes. It's difficult for me to understand how I'll feel on the bike, I hope it's not a problem, I don't want to take too many painkillers. It doesn't make sense to take risks for no reason".
Will you immediately know how you feel?
"I think one lap will be enough, when I make a movement that causes pain I immediately feel a stab".
Would it have been useful to try at Misano?
"Yes, I knew I wouldn't be able to race but it was important to understand my limits in order to manage the situation moving forward. Anyway, I don't want to create any more controversy".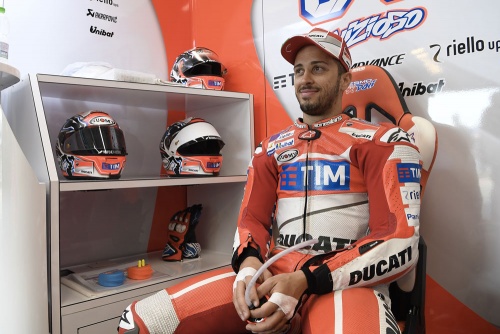 While Iannone has doubts about his physical condition, Dovizioso's worries regard the bike's competitiveness at this track.  There's no denying that the Ducati is fast, but it's also true that things didn't go according to plan in the UK and Italy.
"But this is a very different track and I'm curious to see how competitive we are", he emphasises.
How do you explain the difficulties in the last two races?
"I didn't do particularly well, but that can happen in a season as strange as this one. The tyres have significant bearing on the situation, we can't count our chickens".
Can you at least make a prediction?
"At Misano we had high expectations and things didn't go to plan, so it's pointless to make prediction. We'll see how the tyres behave, maybe Michelin will give us four front tyre options".
Recently there's been a lot of talk about winglets, and Nakamoto stated that they may have been the cause of your forearm problems at Silverstone…
"I don't know how to answer that. This year, we can't waste a session just to make certain comparisons. There has definitely been continual evolution over the last two years, the winglets have given us advantages but I couldn't quantify them".
Share