After the rear tyre problem that affected Scott Redding's Ducati Pramac during FP4 - similar to what happened to Loriz Baz in Sepang but, thankfully, with less disastrous consequences - Michelin has decided to withdraw both its medium and harder rear solutions.
This is because both tyres have the same construction, now being analysed by the French manufacturer.
As a substitute, Michelin are providing a new medium rear that has a stiffer construction.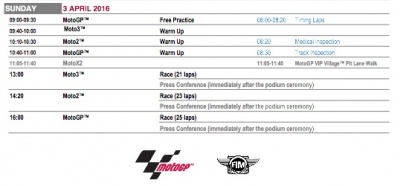 Each rider will have 4 new tyres available to him during Sunday.
The work of Nicolas Goubert and his men is commendable, as they are doing everything to ensure the safety of the MotoGP riders, but at the same time one asks whether it was smart to introduce new tyres and, simultaneously, new electronics, less sophisticated than those of last year.
The overheating of the tyres causes them to slide in acceleration. A problem that particuarly affects the powerful Ducatis, penalising the heavier riders. Examples being the tall Baz and robust Redding.
To allow teams to adapt the setting as a result of the new Michelins, riders will have an extra 30-minute session (at 9 am) in addition to the 15-minute Warm-up, which essentially means they are starting over. Two days work thrown away. MotoGP is playing with fire.